A Guide to Professional Liability Insurance
If your business provides professional advice or services to clients, you may have heard that you should have professional liability insurance to protect your company financially. What is professional liability insurance coverage? What does professional liability insurance cover? And what does professional liability insurance cost?
Before you purchase a policy, you'll want answers to these questions. This guide provides information to help you understand the concept of professional liability insurance, why it is important, and more.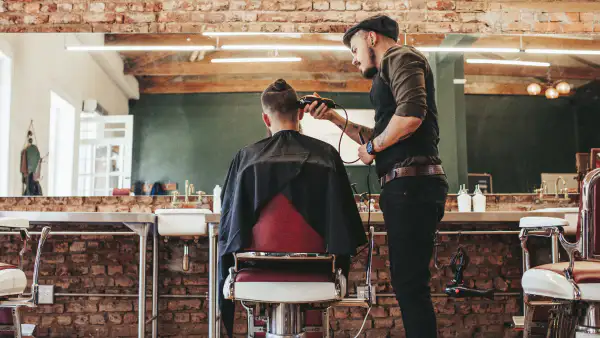 What is Professional Liability Insurance?
Professional liability insurance protects individuals or businesses that provide professional advice. In this context, "professional" refers to people like accountants, lawyers, and others who have specialized knowledge and training in a particular area and are expected to meet specific standards. "Liability" means being responsible—typically by law—for the consequences of your actions.
So, professional liability coverage is designed to protect people who provide expert advice or services and are sued by clients over something that caused the client a financial loss—whether the policyholder did what they are accused of or not.
What Does Professional Liability Insurance Cover?
We're often asked, "What does professional liability insurance cover?" Professional liability insurance, which is also called errors and omissions insurance or simply E&O, provides coverage for three main types of claims:
check

Unfulfilled duties. Clients expect you to take actions that are standard for your profession. For instance, as an accountant, it may be an accepted industry practice for you to file a particular form on your client's behalf by a specified date. If you fail to fulfill that duty and, as a result, the client suffers a financial loss, a court may find you liable and require you to compensate the client for that loss.

check

Negligence. Clients expect you to act with a certain degree of care. Let's say you're an insurance agent, and a client comes to you for recommendations on different forms of insurance coverage. If you provide them with a report listing crucial policies for their business but carelessly overlook a type of coverage they need, and that gap in protection later hurts them financially, you may be liable.

check

Mistakes. Errors you make in the professional advice or service you provide can result in a professional liability lawsuit. For instance, if you're an accountant and you make a calculation error that causes your client to suffer financial damages, a court may decide that you're liable for their loss.
As you can see, it makes sense to have a good level of professional liability coverage. Of course, the causes of a professional liability lawsuit may differ, but the result is the same: If a court finds you liable, your business can be required to compensate a client financially. If you don't have professional liability insurance, your company must pay that compensation directly.
The cost of a single incident can produce a significant financial burden for an uninsured or inadequately insured company. Unfortunately, that expense can be so large that it drives the organization out of business. That's why having professional liability insurance is vital.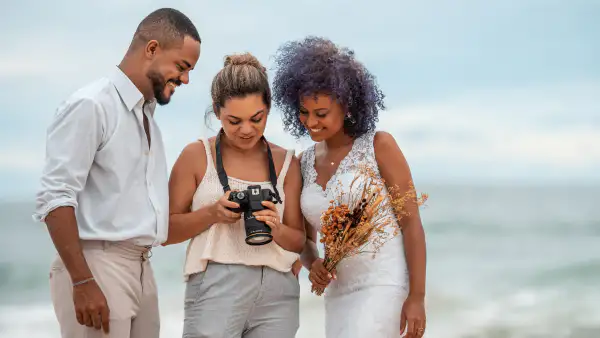 What Isn't Covered by Professional Liability Insurance?
Professional liability insurance provides critical financial protection and covers many types of errors and omissions, whether actual or alleged. However, like any type of small business insurance, a professional insurance liability policy has exclusions.
For example, it won't protect your business if you commit fraud or other criminal acts. A professional insurance liability policy also won't cover things that aren't crimes but are intentional actions or intentional delays in performing required activities. In other words, professional liability insurance is designed to help protect you when you've made honest mistakes.
Coverage is also limited to your professional advice or services. Other policies cover different types of incidents. For example:
A licensed biBERK insurance expert can talk with you about your business and help you understand which parts of your operation professional liability insurance can and cannot cover. For example, common questions that get asked are, "What is professional liability insurance?", "What is the difference between general liability and professional liability?",  and "What does professional liability insurance cost?"
Who Needs Professional Liability Insurance?
In general, anyone who provides professional advice or services may need professional liability insurance. That broad description covers many specific business specialties and roles, including:
Answering services
Audio/visual consultants
Billing services
Claim administrators
Corporate trainers
Funeral directors
Interior designers/decorators
Journalists/broadcasters
Landscape architects
Loss control inspectors
Notaries
Optical and hearing aid professionals
Procurement consultants
Recruiting consultants
Security guards
Social workers
Software companies
Training and development consultants
Travel agents
Tutors
These are just examples. If you don't see your type of business on this list, that doesn't mean you wouldn't benefit from professional liability insurance. You should contact a biBERK representative to talk about your company and your business insurance needs.
If you assume you don't need a policy when, in fact, you do need it, you can end up with a considerable out-of-pocket legal expense.
Am I Required to Have Professional Liability Insurance?
States dictate whether certain professions are required to have professional liability insurance and/or disclose whether they carry coverage. Consequently, you'll need to get familiar with the regulations for your industry and location. biBERK licensed insurance experts can provide guidance.
Beyond state requirements, your clients may require you to have professional liability insurance. Often, contracts will include clauses regarding insurance coverage.
Professional Liability Insurance, Legal Defense Costs, and Punitive Damages
If a client sues you over a covered professional liability issue, your biBERK professional liability policy can pay for your legal defense. It can also cover any damages (including punitive damages, if permitted by law in your state) the court awards to the plaintiff. In addition, we provide an attorney to represent you, which can help relieve some of the anxiety in a very stressful situation.
Our covering of punitive damages is vital since the dollar figures can be quite high. Courts assess punitive damages on top of other damages to punish companies they find to be at fault. If your state allows these damages to be covered by a professional liability insurance policy, biBERK can cover you up to the policy limit.
What Does Professional Liability Insurance Cost?
Many people are concerned about the money they'll need for this type of coverage and often ask "What does professional liability insurance cost?"
Professional liability insurance costs are very reasonable when you consider the protection provided. biBERK professional liability policies start at around $300 per year and go up from there. Your cost is calculated based on several factors, including your industry, the level of coverage you choose, your years in business, number of employees, revenue, and the policy limits you need.
You can get an instant, self-service online quote to learn what you'll pay for this vital coverage. But, if you have additional questions about how much professional liability insurance costs or need help purchasing coverage, a biBERK representative is happy to assist you.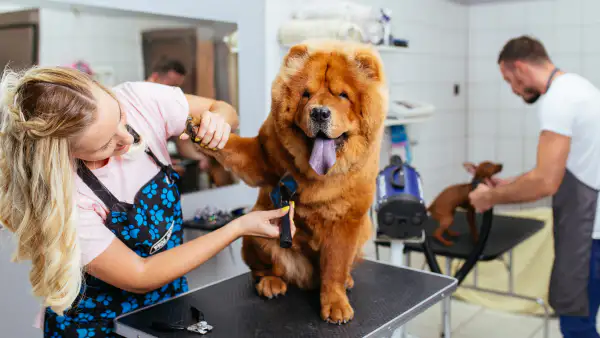 How Can I Keep My Professional Liability Insurance Cost Down?
biBERK's professional liability insurance policies are among the most affordable on the market. Our direct-to-you approach means we cut out brokers and middlemen to offer you coverage at up to 20% less than other companies.
Still, there are a few steps you can take to ensure you're getting great insurance at the lowest price. For starters, you should purchase the right amount of coverage. The more financial protection you want, the higher your premiums will be. For example, all else being equal, $500,000 in coverage will cost less than $2 million in coverage.
You can also select a higher deductible. As with auto insurance, higher deductibles mean lower premiums. However, you must have that deductible amount available at all times in the event of a claim. Ultimately, it's about finding the right balance between your needs and your budget.
In addition, you can keep your professional liability costs down by having a Statement of Work, contract, or other document executed by you and your client that clearly spells out expectations, timelines, etc. That way, there's no confusion about what the project or relationship entails and less risk of a lawsuit. If you can have an attorney review the agreement, that's even better.
Understanding Professional Liability Insurance Retroactive Dates
Professional liability insurance is somewhat unique in that it can have what's called a retroactive date. This date means that your policy may cover costs associated with claims that clients file after your coverage is in force for issues that occurred before you bought your current policy.
Here's an example:
Your professional liability policy began on June 30, with a retroactive date of January 1. In mid-July, a former client claims you made a mistake in March when working on their tax return. Both you and the client were unaware of this issue when you bought your policy as it didn't come to light until July. Since the occurrence causing the claim took place during the retroactive coverage period (between January 1 and June 29), and you made the claim during your regular coverage period, your policy will likely cover it.  
When you buy your first professional liability policy, you don't receive coverage for prior acts. However, you build this coverage over time as you continually purchase new coverage. The first policy only covers acts that both occurred and were reported during the first year. The second policy covers acts that occurred during the first two years and reported during the second year, and so on.
Does biBERK Offer Professional Liability Insurance in My State?
biBERK offers professional liability insurance in all U.S. states. If you have questions about whether you can purchase other types of small business insurance where you are, our coverage maps make it easy to check availability.
Keep in mind that factors like your business type, claims history, and others affect our ability to offer you insurance coverage, even if it's technically available in your state.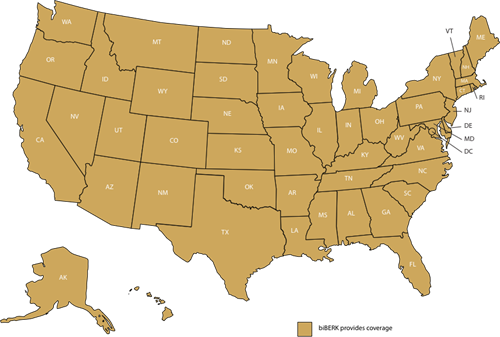 How to Prove You Have Professional Liability Insurance
A Certificate of Insurance (COI) is a physical or digital document that states you have purchased insurance and summarizes your coverage. Individuals and organizations with which you have a business relationship may ask you to provide them with COIs. They do this because the fact that you have insurance lowers their risk should a lawsuit related to your professional services occur.
You can obtain these documents easily and at no cost on the biBERK website. If you need to add what's called an additional insured (meaning someone, like a client, who may be covered by your policy), our representatives can help you with that.
An Example of Professional Liability Insurance in Action
How does professional liability insurance work? Imagine you're an architect, and you design a bridge for a local municipality. A construction company builds the bridge according to your blueprints, and initially, it looks fine.
However, after a few months, parts of the bridge show signs of deterioration. Then, before the city can do anything, a section of the bridge collapses. Fortunately, no one is hurt, but a subsequent review of your blueprints shows that an error you made in your calculations caused the bridge to fail.
The city sues your firm for several expenses incurred due to your faulty design. These costs include commissioning a new design, paying to have the bridge rebuilt, etc. And this is a very simplified scenario, of course. Professional liability litigation frequently involves multiple parties, contractors and subcontractors, suits and countersuits, etc. Needless to say, the cost of an honest mistake can be very high.
The good news is that if you have a sufficient amount of professional liability insurance, your policy may protect you from the financial repercussions of this type of event. Simply report the claim, and our team will contact you and go to work on your behalf.
Even if no one ever sues you, simply knowing that biBERK has your back can lower your stress level and enable you to do your job confidently and without continually second-guessing your work.
Frequently Asked Questions About Professional Liability Insurance
Who needs professional liability insurance?
What is professional liability insurance and who needs it? Professionals who work in certain sectors or industries should get a comprehensive professional liability insurance policy as a matter of course. It's a core business requirement for some professions—particularly those people who might be more likely to have service-based disputes.
It's a priority if your business provides any form of professional services, such as advice and consultancy, to clients. It's also a must-have if you're in a line of work that means you're more open to disputes over quality of work or copyright (if you're a designer, for instance).
You should consider a professional liability policy if you're more at risk of being sued for professional negligence, including if you're a freelance worker or provide any services on a self-employed basis.
People who work in sectors such as healthcare are also likely to need professional indemnity insurance (like medical malpractice insurance) because they work with specific industry bodies that set rules and regulations that must be adhered to.
Basically, if there's a chance a client could take you to court over a professional advice or services dispute that has adversely affected them, then taking out a professional liability coverage policy is a good idea. If you're still not sure whether you need one, talk with one of our licensed insurance experts. They can give you accurate advice on what you need (and what you don't need).
How much professional liability insurance do I need?
It sounds a little vague, but you should take out as much as you can afford, once you've spoken to an insurance advisor and worked out what you might need. This type of insurance policy isn't a one-size-fits-all type of coverage. Every business and every worker is different, so their needs for insurance will also be unique.
Consequently, it's difficult to predict how much professional liability insurance cover anyone will need. You should start by thinking about the following: What do you do? Who do you do it for? What are your services worth? If you can provide us with detailed answers to these questions, it can help us advise you on how much coverage you need and what it will cost.
Is professional liability insurance required?
It very much depends on the type of services you or your business offer, and it's worth talking to a biBERK professional insurance advisor if you're not sure. Check your state laws, rules, and regulations, and get advice from one of our experts.
How does professional liability insurance work?
Professional liability insurance helps protect you against claims for loss or damage made by clients in the event you've given incorrect advice or provided a service to them that fails to meet accepted standards. Your policy can pay for court-awarded damages and your legal defense expenses.
What does professional liability insurance not cover?
Professional liability insurance policies often have exclusions and it's worth knowing what these are before you take a policy out. For instance, if your business has committed fraud or any other form of criminal activity, professional liability insurance won't cover you. It also won't cover intentional actions or intentional delays in performing required activities or services for a client. So, to put it in its simplest terms, professional liability insurance will only protect you when you've made honest errors and mistakes.
Getting and Managing a Professional Liability Insurance Policy is Easy
Professional liability insurance can protect your business in the face of complicated legal actions, but getting the coverage is simple. You can get a quote and purchase a policy online whenever it's convenient. You can also manage your policy on our website, and if you ever have to report a claim, you can do that online, as well.
Once your policy is in force, you can rest easy knowing you have the financial strength of biBERK and the Berkshire Hathaway Insurance Group behind you.