out of 5 customer review rating and 200,000+ policies sold.
Protect Your Business With Commercial Truck Insurance
Insurance for transportation business is important regardless of your company's size. From employee injuries to damage your trucks cause to other drivers' vehicles or to property like a loading dock or gas pump, commercial trucking companies have to be prepared for the potential financial impact from a wide range of risks.
At biBERK, we provide tailored commercial truck insurance coverage at savings of up to 20%. Whether you need workers' compensation, general liability, a business owners policy or BOP (sometimes called property & liability insurance), commercial auto, umbrella, or cyber insurance, just complete a simple form online or speak with our licensed insurance experts to get a fast, free quote. Plus, with biBERK, you can purchase a policy, manage it, and report claims online for ultimate convenience.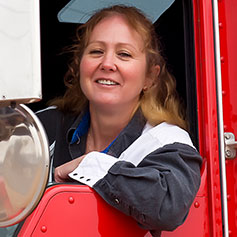 Who Needs Transportation Insurance?
Transportation companies of all kinds need proper coverage. Business insurance for a moving company, for example, is very important. Most states mandate commercial auto liability coverage for businesses that own or lease vehicles. Commercial transport insurance policies can be very expensive, so competitively priced insurance from biBERK could help your bottom line. You should also protect your company from a wide range of other potential issues, including things like visitor slip-and-fall injuries, damage to your company's assets, and many more. Contact us about transportation insurance if you have questions.
Any Business That Offers Transportation Services Needs Transportation Business Insurance, Including:
Auto transport companies
Delivery/courier services
Dump truck hauling companies
Hot shot trucking companies
Livestock, equine, or other animal transporters
Logistics services
Towing companies
Transportation of goods companies
Transportation services for the elderly
Trucking – local hauling
Trucking – long distance hauling
What are the Different Types of Insurance for Transportation Businesses?
Not every transportation insurance company can provide the breadth of coverage and exceptional service that biBERK does. We offer five different types of insurance for transportation businesses. Depending on the location of your business and other factors, certain types might be better for you than others.
Why biBERK for Commercial Truck Insurance?
We're the experts when it comes to commercial transport insurance for small businesses.
Save Time
Get a quote entirely online or speak with one of our insurance experts right away for help getting a quote, buying a policy, or answering any questions you may have.
Save Money
We insure your small business directly, without a middleman or insurance broker, so we pass that savings on to you—up to 20% less than policies with any other transport insurance company.
Experienced
We're part of Warren Buffett's Berkshire Hathaway Insurance Group with millions of satisfied customers, more than 75 years of insurance experience, and $38 billion in paid claims in 2020.
Transportation Insurance Frequently Asked Questions (FAQs)
What types of small business insurance does my transportation business need?

keyboard_arrow_down

---

Every company is different, so we'll need to learn about your transportation business to offer specific recommendations. Then we can provide the right policies to ensure your company is fully protected.

Am I required to have transportation business insurance?

keyboard_arrow_down

---

In most states, you are required to have workers' comp insurance if you have employees. As a transportation business, you'll also need commercial auto liability insurance. Certain other types of insurance may be required to get contracts.

How long does it take to buy transportation insurance?

keyboard_arrow_down

---

Getting transportation insurance quotes and then paying for the policies you need is fast and easy. It can take as little as five minutes, and your coverage is instant once you complete the process.
Get a Quote Today
See why biBERK is easier and more convenient for transportation insurance when you obtain your free quote online.