Does Commercial Auto Insurance Cover Personal Use of Vehicles?
Vehicles owned by a business and used for work purposes—as opposed to personal vehicles—are typically insured under a commercial auto insurance policy. This insurance protects your company from claims if someone alleges that an employee driving a company vehicle is at fault in an accident. It can cover things like legal fees and the medical costs of others. However, does commercial auto insurance cover personal use of vehicles too?
This is a question we're frequently asked by business owners, and the answer is, yes, it can cover the cost of damages even if the vehicle is used for personal activities outside of its primary business use. To be clear, commercial vehicles used for personal use are covered by commercial auto insurance.
To help you find insurance that covers the personal use of company vehicles, we provide more information below on what types of commercial auto policies are available. We'll also answer frequently asked questions (FAQs) like "Who is insured under a commercial auto policy?"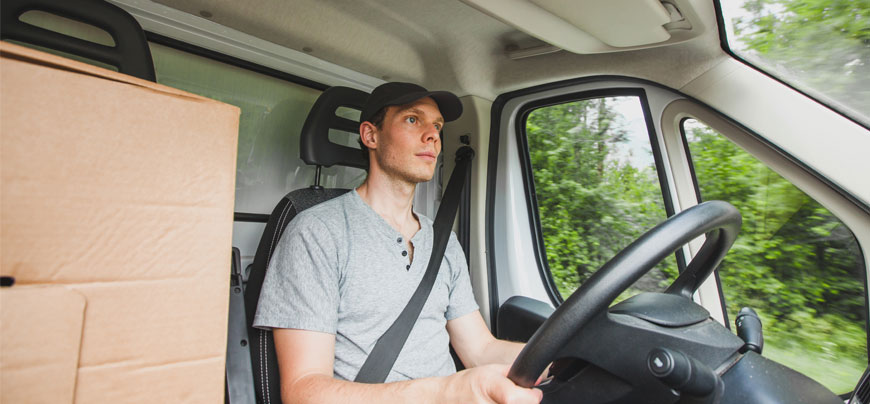 Commercial Vehicle Insurance vs. Hired and Non-Owned Auto Liability
It's important to note that commercial vehicle insurance does not cover employees who use their own vehicles for work purposes. For example, if your workers make deliveries or run business errands in their personal vehicles, those activities are not covered by your biBERK commercial auto policy unless you have an additional policy endorsement.
What you need for that type of scenario is what's called hired and non-owned auto liability. It's add-on insurance that can be part of a biBERK general liability insurance policy or a business owners policy (BOP). This add-on also can cover the regular use of other vehicles that you don't own, like a rented truck.
If you have questions about this distinction, you can contact us about our commercial vehicle insurance. We're happy to talk with you about your needs and the policies that can address them.
Who Needs Commercial Auto Insurance?
If your business owns vehicles, you should have commercial auto insurance to protect them—especially if you are using your commercial vehicle for personal use too. We provide policies for many types of businesses, including:
Accountants
Architects and engineers
Bakeries
Business management consultants
Cleaning and janitorial companies
Contractors
Corporate trainers
Dog walkers and pet sitters
Electricians
Food service companies
Home inspectors
IT consultants
Landlords
Landscape companies
Personal trainers
Photographers and videographers
Restaurants
Retail businesses
Transportation companies
Trucking companies for hire
Wholesalers
Who has the Best Commercial Auto Insurance?
In determining who has the best commercial auto insurance, there are a few things to consider. One is that you want to keep your insurance costs as low as possible while still ensuring you have proper coverage. At biBERK, we don't use middlemen or brokers. Consequently, we're able to provide insurance directly to you for up to 20% less than other companies.
The organization behind your commercial auto insurance is important, too. biBERK is part of Warren Buffett's Berkshire Hathaway Insurance Group with millions of satisfied customers, more than 75 years of insurance experience, and $38 billion in paid claims in 2020. So, we're a company with expertise and financial resources, and one you can trust to have your back if an incident occurs, as our 4.9 out of 5 stars customer rating demonstrates.
Looking for insurance that covers commercial vehicles for personal use too? Work with biBERK and you could save up to 20% on all your business insurance. Get a quote in minutes online.
Commercial Auto Insurance FAQs
Having answered the question, "Does commercial auto insurance cover personal use?", below are answers to other FAQs. Our licensed insurance experts are always happy to talk with you. But you may be able to find answers to your commercial auto insurance questions below.
How much does commercial auto insurance cost on average?
The cost of commercial auto insurance varies based on things like the type of vehicle, how it's used, and the driving records of the people who will operate it, to name just a few. For example, commuter/consultant use of smaller vehicles can cost $600 to $1,500 per vehicle per year. The cost to insure vehicles for for-hire trucking can be $5,000 to $25,000 or more per vehicle per year. Livery vehicles may cost $2,000 to $6,000 per vehicle per year to insure.
For damage caused in at-fault accidents, which drivers are covered by my commercial auto insurance?
Owners or employees that drive your vehicles on a regular basis should be noted on your policy. If a vehicle is scheduled on the policy, the damage from an accident would be covered as long as the driver was permitted to use the vehicle.
Will my insurance cost increase if I'm involved in an accident in my covered vehicle?
Your current policy won't be affected, but your next term or renewal may be. Your policy is updated each time it expires. When that occurs, your company's driving record is a factor in determining your rate. That means your rate may go up, but an increase is not guaranteed just because of an accident.
Does my commercial vehicle insurance cover items stolen from my vehicle?
Your policy can cover the vehicle and anything permanently attached to it, like a truck bed tool box. However, in that example, the tools themselves are not covered. Contractors who transport tools can purchase coverage for them under a general liability policy or business owners policy (BOP). Businesses in the for-hire trucking industry can purchase cargo liability add-on coverage to insure the goods they haul.
If I'm pulling a trailer with a vehicle that's covered under my commercial auto insurance policy, is the trailer automatically covered?
Not necessarily. Liability coverage is automatic for trailers under 2,000 pounds gross vehicle weight, but for theft or damage coverage, you have to add the trailer to your policy. Trailers 2,000 pounds or over must be added to your policy to have coverage.
Who is insured under a commercial auto policy?
Employees of your company are insured under a commercial auto policy, including anyone who uses your business vehicles as part of their job (couriers, delivery drivers, etc.). This insurance also covers personal use of company vehicles.