Are Trailers Covered Under Commercial Auto Insurance?
Companies that have their small business insurance through biBERK will sometimes ask us, "If I pull a trailer with a vehicle covered by business auto insurance, is the trailer protected?" In other words, do you need insurance on a trailer? The answer to whether trailers are covered under commercial auto insurance depends on the weight of the trailer.
Below is more information on the idea of commercial trailer insurance.
Are Trailers Covered Under Auto Insurance?
Trailers under 2,000 pounds gross vehicle weight have liability coverage automatically, but you have to add the trailer to your policy for theft or damage coverage. If your trailer is 2,000 pounds or more, you must add it to your policy to have coverage.
Once we've approved the addition, you'll have insurance coverage for a trailer, regardless of its size or weight.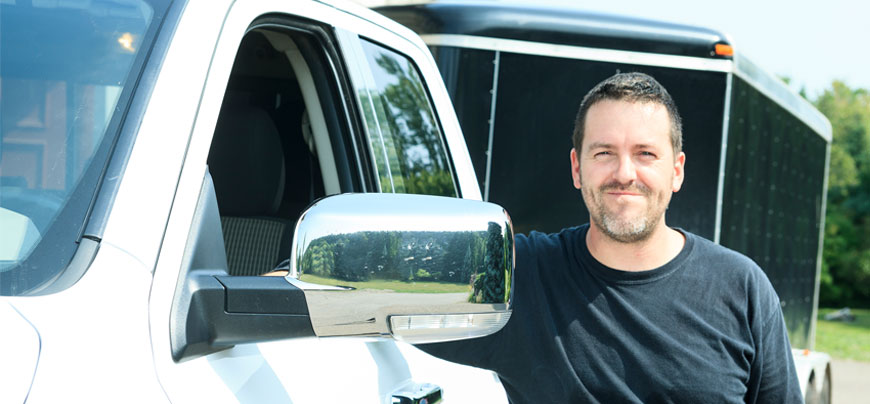 What's Covered by Commercial Vehicle Insurance?
Commercial vehicle insurance covers many expenses and liabilities associated with using company-owned vehicles for business purposes. For example, it can provide payment for liability if you're at fault in an incident that injures or kills someone. It can also protect you if your vehicle causes damage to someone else's vehicle or property.
Commercial vehicle insurance may cover medical payments, including those that result from the actions of a hit-and-run driver. It can also cover collision damage and comprehensive physical damage—meaning damage caused by something other than an accident, such as vandalism, theft, fire, flood, or other specified hazards. 
Contact us if you need more clarity on the question, "Do you need insurance for a trailer?" Our licensed commercial vehicle insurance experts can answer any questions you have about coverage and any trailers you pull.
What's not Covered by Commercial Vehicle Insurance?
Commercial vehicle insurance provides broad protection. However, there are certain things that aren't covered. Intended or expected property damage or injuries aren't covered. In other words, if you use a vehicle in a way that will, or should be anticipated to, cause damage or injury, the policy doesn't protect you. Commercial vehicle insurance also doesn't cover injuries that fall under workers' compensation insurance. 
Hired and non-owned vehicles—rented, borrowed, or employee vehicles, for instance—aren't covered. An exception here is that a replacement vehicle for a covered vehicle that is being repaired or serviced is covered. And coverage for these kinds of vehicles can be added to a general liability or business owners policy.
Also, mobile equipment like forklifts or cranes aren't covered.
What Does Business Auto Insurance Cost?
The cost of business auto insurance varies based on the type of vehicle, how it's used, and the driving records of the people who will operate it, to name just a few factors. Because of our direct-to-you model (i.e., no "middlemen" or brokers are used), biBERK is able to offer coverage at up to 20% less than other insurance providers. 
For example, commuter/consultant use of smaller vehicles can cost $600 to $1,500 per vehicle per year. The cost to insure vehicles for for-hire trucking can be $5,000 to $15,000 per vehicle per year. Livery vehicles may cost $2,000 to $6,000 per vehicle per year to insure. 
The best way to determine your business auto insurance cost is to get a fast, free, online quote.
Who Has the Best Commercial Auto Insurance?
Some of the factors you should consider when determining who has the best commercial auto insurance are things like the company's reputation, experience, and financial resources. We're proud to say that biBERK is part of Warren Buffett's Berkshire Hathaway Insurance Group with millions of satisfied customers, more than 75 years of insurance experience, and $38 billion in paid claims in 2020.
Frequently Asked Questions (FAQs)
Below are answers to questions about commercial trailer insurance related to "Are trailers covered under commercial auto insurance?"
How much is commercial trailer insurance?
The price of your commercial trailer insurance add-on all depends on the size and weight of your trailer and the premiums you already pay on your standard commercial auto insurance. Get a quote online with us in minutes. You can save up to 20% on business insurance if you choose biBERK.
How do I get insurance for a trailer?
If your trailer is over 2,000 pounds, you can add the trailer to your commercial auto insurance policy. If it's under 2,000 pounds, the trailer is automatically covered by your existing auto insurance. If you're unsure, get in touch with us to talk about your options.
Will I be covered if my trailer is stolen?
Yes. Adding the trailer to your commercial auto insurance means it is covered for damage and theft. 
Do I need a special license to tow a trailer?
Generally speaking, you do not. However, you should check the requirements in your location.