How to Legally Protect Your Business
Any business can become the target of a lawsuit from someone who feels the company injured them in some way—physically or financially. However, there are steps you can take to begin legally protecting your business and minimize the risk of a small business lawsuit. You can also prevent serious financial harm to your company by having the right small business protection through insurance coverage.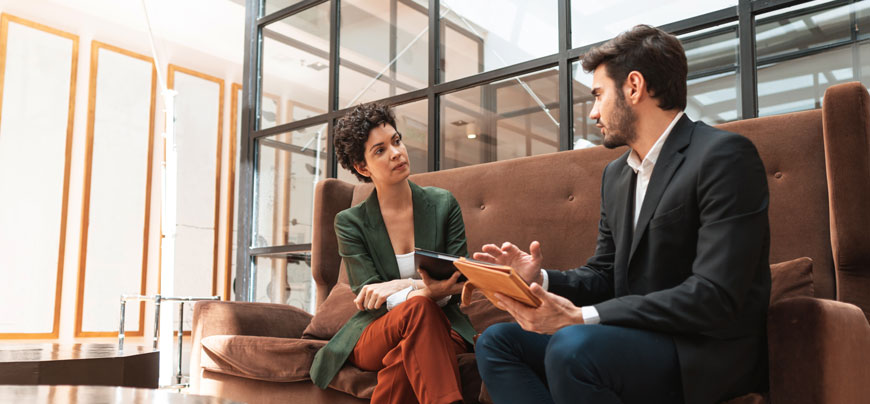 How to Protect Your Business
It makes sense: Businesses that don't get sued don't have to pay the cost of judgements, legal fees, etc. How do you avoid your business being sued? There are many steps you can take, including:
check

Understand and follow employment law. If you hire, manage, and treat people properly, you're less likely to be sued for discrimination, harassment, etc.

check

Be sure everything you discuss with clients, vendors, or anyone with whom you have a business relationship is in writing. It's not uncommon for small businesses to agree to terms with a spoken promise and a handshake. Unfortunately, those types of agreements aren't the best form of evidence in a lawsuit. You should always protect a business by putting everything down on paper.

check

Communicate with your customers or clients frequently and clearly. Often it's frustration that drives someone to file a lawsuit. By talking with people about the progress you're making on their project, any challenges you're encountering, and any risk of going over budget or past your deadline, you keep them happier and more willing to work things out when problems arise rather than going to court.

check

Train your employees. The better prepared team members are to do their job, the more likely they are to do it without making mistakes or causing damage or injuries.

check

Ensure your premises are properly maintained. Many lawsuits result from injuries to customers or other visitors who have incidents like slip-and-fall accidents that could be avoided
Protect Your Company From Lawsuits: Get Small Business Insurance Coverage Legally Protecting Your Business From Lawsuits: Get Insurance Coverage
It's vital to have the right insurance to protect a business. Without it, one lawsuit can become a financial burden that your company can't bear. There are different types of policies available, each designed to cover a different type of risk. This includes:
Which policies you require depends on the type of work you do and other factors. We can help you understand your needs.
Who Needs Small Business Insurance?
Every business can benefit from small business insurance. At biBERK, we serve a long list of industries, including:
check

Accounting and finance

check

Apartments and other buildings

check

Auto service and auto dealers

check

Cleaning and janitorial

check

Construction and contracting

check

Health care

check

Information technology

check

Lawn care and landscaping

check

Professionals and consultants

check

Restaurants and bars

check

Retailers and wholesalers

check

Transportation
Getting Business Insurance Quotes
Before purchasing policies, you'll want to get business insurance quotes. We make that process easy. You can get a free quote online or by talking with one of our licensed insurance experts. Then, if you decide to buy one or more policies, you can make your purchase online, as well, and have immediate coverage.
You can also report claims and manage your policies on our website. We make things quick and convenient so you can focus on running your business.
Small Business Insurance Frequently Asked Questions
Our licensed insurance experts are always happy to talk with you about your insurance needs. However, below are answers to some of the questions business owners frequently ask us.
Am I required to have small business insurance?
Certain types of coverage may be required in your state and for your type of business. Plus, some companies require that the businesses they work with have insurance and some landlords require that you have insurance coverage. Our business insurance professionals can help you understand what kinds of policies you need.
Does biBERK provide business insurance in my state?
Most likely, yes. However, it depends on the state you're in and the type of insurance you're looking for. Check out our coverage maps for details.
How does insurance protect business owners?
Each business has unique insurance needs. Going through our online quote process or talking with one of our licensed insurance experts are two great ways to determine how best to protect your company. However, there are some common requirements based on the characteristics of your business. General liability insurance is needed if customers visit your premises, and errors and omissions insurance is crucial for individuals or businesses that provide a professional service or advice. If you have assets like equipment and furniture, or if you own buildings, a business owners policy (also called property & liability insurance) is important. And if you have employees, you'll need a workers' compensation policy.
Who Offers the Best Small Business Insurance Coverage?
Three of the most important factors to consider when trying to determine who offers the best small business insurance coverage are: affordability, experience, and financial resources. You want to work with a company that charges a reasonable rate for their policies, will be there for you when you need them, and can pay claims as required.
At biBERK, we insure your small business directly, without a middleman or insurance broker. As a result, we pass significant savings on to you—up to 20% compared to other insurance companies. Plus, we're part of Warren Buffett's Berkshire Hathaway Insurance Group with millions of satisfied customers, more than 75 years of insurance experience, and billions in paid claims annually. So, you know we'll have your back if an incident occurs.