How Does a Workmen's Comp Claim Work?
Workmen's comp insurance helps your employees by covering costs associated with work-related injuries, illnesses, and fatalities. This includes medical expenses and lost wages. If a worker dies as a result of an on-the-job incident, this type of insurance can provide what's called a death benefit to their surviving family members.
Most states require companies with employees to have workmen's comp coverage, which is also called workers' comp insurance. But how does a workmen's comp claim work? The process is outlined below.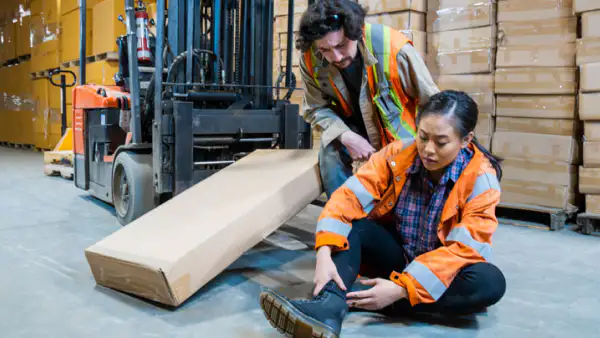 Understanding the Workmen's Comp Claims Process
If you've suffered an injury at work and need medical treatment, something you're likely to think about soon after you get hurt is your medical expenses. You may wonder how you arrange for your company to pay the costs under its workmen's compensation policy. Fortunately, the process is relatively simple and straightforward.
Let's say you're an employee, and you fall and break your arm while performing a work task. The workmen's comp claims process gets underway with these five main steps:
The injury occurs. You are hurt and get treatment at a hospital or other medical facility. 
You report the injury. You contact your supervisor or the company's human resources (HR) department. You must take this step within a time frame specified in your company's policy and explained to you by your employer. If you don't, you may forfeit your benefits.
You or your company file a claim. Either you or someone on your behalf files a workmen's comp claim with the insurance company.
The insurance company approves payment. After evaluating the claim, the insurance company determines what payments it will provide based on the workmen's comp laws for the state where the incident occurred.
Your company notifies OSHA. Your employer must report the incident to the Occupational Safety and Health Administration (OSHA) within 8 to 24 hours, depending on the severity of your injury.
Good communication is essential throughout the process. That includes planning for your return to work if you are unable to work and need time off to recuperate from your injury. In our example, that will likely be a period of weeks, depending on the type of work you do. If you had a permanent injury and couldn't return to work, your insurer might pay permanent disability benefits.
What Types of Companies Must Have Workers' Comp Insurance?
Workers' comp insurance requirements vary by state. However, nearly all businesses with employees must have a workers' comp policy. That includes companies with full-time, part-time, or seasonal workers.
There are very few exceptions to the workers' comp insurance requirements. Consequently, if your business engages with anyone in a way that might make them an "employee" by any definition, it's safest to assume you need workers' comp insurance until and unless you learn from the appropriate authority that you don't need the coverage.
What Does Workers' Comp Cost?
The cost of a workers' comp policy is primarily based on your company's annual payroll. Insurance companies also consider attributes like your industry, the type of work you do, and your claims history.
It's important to note that employers are not allowed to require employees to help pay the cost of workers' comp coverage—as some businesses do with other insurance like healthcare coverage. A company must pay its own workers' comp premium. But when you consider the protection your policy provides, it's well worth the cost.
What Types of Injuries Does Workers' Comp Insurance Cover? And What Injuries Aren't Covered?
Some of the more common covered workers' comp claims include:
check

Back injuries

check

Slip-and-fall injuries

check

Carpal tunnel syndrome

check

Car accident injuries while doing company business

check

Lung damage from breathing hazardous fumes
Insurers may deny claims for injuries that occur due to behaviors excluded by the policy. This may include things like:
check

Self-inflicted injuries

check

Injuries that occur while the employee is breaking the law

check

Injuries that occur while the employee is under the influence of drugs or alcohol
How to Minimize Your Workmen's Comp Premium
You can keep your workmen's comp premium down by minimizing the number and cost of your workmen's comp claims. And to do that, you've got to be proactive.
Business owners in general, and our customers in particular, find that there are multiple programs they can implement to help reduce the number of workplace injuries and also empower injured employees to get back to work quickly.
For instance, well-trained employees are less likely to make mistakes that result in injuries, so on-the-job training can be helpful. So can general safety training. You should also encourage employees to talk with anyone in the company they feel should know about safety violations or other safety-related issues.
It's also a good idea to educate employees on what workmen's compensation is and how it protects them and your company.
In addition, the more quickly an employee gets back to work, the less their claim costs overall. And because they get paid less in wage replacement than their regular paycheck, it's to their benefit to return to work as soon as possible.
So, many companies have programs that train employees to do new types of work until they are fully recovered and can resume their previous responsibilities. This helps them and reduces the amount a company has to spend on temporary workers.