Understanding Photography Business Insurance and Camera Coverage
If you run a photography company, you understand that your business faces a wide variety of challenges and risks. From storms or accidents that damage expensive cameras and lighting equipment to clients who trip and injure themselves in your studio and sue you, it's easy to find yourself with a large financial burden.
Fortunately, there are insurance policies that can provide financial protection from these risks. These policies go by many names: insurance for photography business, photography business insurance, photographer liability insurance, camera gear insurance, and camera equipment insurance. Some busy photography business owners think of and refer to it simply as camera insurance.
That term isn't broad enough, as there are several types of insurance for photography businesses that are required. But it works as shorthand for "policies that protect cameras, other equipment, and photography businesses in general."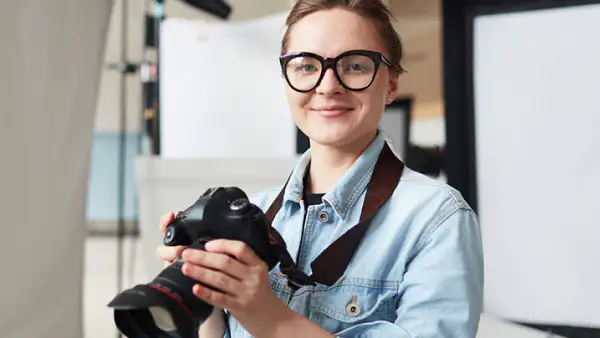 Who Needs Photography Business Insurance and Camera Coverage?
Any person or company that brings in revenue by taking photographs needs photography business insurance and camera coverage. That includes many professions and industries, such as:
Freelance photographers
Photo and video editing services
Aerial photography and drone photography companies
Photojournalists
Camera operators
Digital artists
Photo retouching companies
Stock photography companies
Cinematographers
Commercial videographers
Freelance videographers
Portrait photographers
Multi-media services companies
Drone video companies
Stock videography companies
Those who aren't adequately insured with photography insurance can find themselves paying large out-of-pocket sums for lawsuit damages, equipment replacement, property repairs, etc.
6 Insurance Policies Your Photography Business May Need
Every photography business is different, and therefore every company's approach to insurance for photography businesses will be too. Some own and operate studios where they regularly interact with clients. Others specialize in photographing products that are shipped to them, so they rarely have face-to-face meetings with clients. Some work in settings where they can take their time. Others, like wedding photographers, work in fast-moving, often-chaotic environments.
Consequently, the types of liability insurance for photographers, photographer equipment insurance, or other policies a business needs will vary. But nearly all photography companies need one or more of these seven coverages:
General liability insurance. This policy covers damages and medical and legal costs associated with injuries to non-employees (clients, vendors, etc.) and damage to the property of others caused by the business. It also covers libel, slander, and copyright infringement. In addition, you can customize a general liability insurance policy with what are called endorsements. They enhance the policy's coverage, and include cyber liability, hired and non-owned auto liability, employment-related practices liability, and employee benefits liability.
Workers' compensation insurance. Also referred to as workers' comp or workman's comp, this type of policy pays an injured employee's medical bills and lost wages following an on-the-job injury. Most companies with employees are required to have workers' comp coverage.
Business owners policy (BOP). Also known as property & liability insurance, this policy combines general liability insurance with coverage for your photography company's property. So, it can protect you whether you're sued over a client's injury at your studio, or a tree falls on your building and destroys equipment in your storage room. As with a general liability policy, you can customize a BOP with add-ons like cyber liability, hired and non-owned auto liability, employment-related practices liability, and employee benefits liability.
Professional liability insurance. This type of policy can cover actual or alleged mistakes that cause the client to suffer a loss. It can also address copyright infringement. 
Commercial auto insurance. If your photography company owns or leases vehicles, this policy can pay costs related to liability arising from their use, like if your employee driving a company vehicle to a job site hits a pedestrian. And it can cover the cost of damages even if the vehicle is used for personal activities outside of its primary business use.
Cyber insurance. Today, most businesses possess sensitive customer information, including things like credit card numbers. Cyber insurance can pay costs related to system hacks or data security breaches in which someone steals information and commits fraud or is likely to commit fraud. 
Umbrella insurance. Liability policies, like other insurance policies, have upper limits on how much they'll pay for a covered incident. An umbrella policy can cover an amount over the underlying policy's limit up to its own limit.
A "Perfect Storm" of Photographer Insurance Claims
People often ask how and when certain insurance for photography businesses would come into play. Here's a worst-case scenario that can help answer that question.
You're loading up for an onsite photo shoot when your photography assistant trips over a door jamb, falls, and suffers a sprained wrist. The cost of their trip to the urgent care will likely be covered by your workers' comp insurance.
While someone takes your assistant for treatment, you continue loading equipment into the company van. As you're doing that, you walk quickly out the door carrying a large box and run into a delivery person on their way into your studio. The corner of the box breaks the man's glasses and damages his eye. Later, he sues you for negligence, and the general liability portion of your BOP kicks in to provide financial protection.
On your way to your photo shoot, you run a stop sign and collide with another vehicle, damaging it and injuring the driver. You'll face another lawsuit for that, but your commercial auto policy can pay your legal defense costs and any damages awarded.
You reach the photo shoot location, and your day seems to be improving until one of your expensive cameras slides off a bench and into a river and is irreparably damaged. Fortunately, your BOP will pay to replace it.
At the end of the shoot, you head back to your studio. When you arrive and go to upload the photos you've taken to your network, you discover that you've been hacked and the person has stolen customer records, including credit card numbers. There will be costs associated with notifying customers, researching how the hack occurred, etc., but your cyber insurance can cover them.
And as if all of this isn't enough, you'll later learn that the cost of the delivery person's eye surgery will exceed the limit of your general liability policy, but your umbrella policy can cover the difference.
Is this a bad day the likes of which no photographer will ever face? Probably and hopefully! But it's reassuring to know that should any incident like those above occur, and you've got adequate coverage, you won't be hit with a huge expense.
What are Camera Insurance Exclusions?
An exclusion is something an insurance policy won't pay. Every policy has them. For example, a workers' comp policy might not provide payment if an employee is injured in a fight with a coworker that they instigated.
It's important to understand policy exclusions, particularly with camera insurance, before you make a purchase. If you have questions about a biBERK policy, our licensed insurance experts are happy to answer them. If there's anything unique about how your photography company operates or the services you offer, you should get in touch with us before buying your policies so we can talk about coverages and exclusions.
What Does Photography Equipment Insurance Cost?
Each photography business insurance policy is priced separately. For example, you'll pay one premium for your BOP and another for your commercial auto policy. How much the coverage costs will depend on several factors, including the type of work you do, your claims history, and others.
You can find out specifically what you'll pay for photography equipment coverage by getting instant, self-service policy quotes online. biBERK's rates are up to 20% less than those of other providers as a result of our direct-to-you approach that eliminates brokers and other intermediaries.
If you decide to buy coverage, you can also make the purchase online. In fact, you can manage your policies and report claims online, too, for maximum convenience.
Ultimately, the cost of photographer insurance pales in comparison to the cost of an incident for which you don't have coverage. Even a seemingly minor mishap can cost tens of thousands of dollars or more to resolve. And it's important to remember that even if a lawsuit filed against your company is baseless, you have to defend yourself, and legal assistance can be costly.
What to Look for in a Photography Business Insurance Provider
Many companies provide photography business insurance/camera coverage. However, not all are equally capable of providing the financial protection you need. It's crucial that you do your research and consider your options. Ultimately, it makes sense to work with an insurance company that has extensive experience, ample resources for paying claims, an excellent reputation, and a strong focus on customer service.
biBERK is part of Warren Buffett's Berkshire Hathaway Insurance Group with millions of satisfied customers, more than 75 years of insurance experience, and $38 billion in paid claims in 2020. We meet all the criteria above and are a trusted business insurance provider to photographers, videographers, and other related businesses.
Should you be faced with a lawsuit or suffer a loss, you can count on us to be there for you every step of the way as you look to recover and return your focus to your business.