How Laundromat Insurance Protects Your Operations
Laundromats are busy places, with customers coming and going throughout the day and actively attending to their laundry during their visits. Joining them in this "dance" are your employees—assisting them, ensuring your machines are working correctly, and addressing any issues that may arise.
It's an environment that creates a significant amount of risk. A customer who slips on water leaking from a washing machine and is injured might sue you. An employee who suffers a deep cut on their head when they run into an open washing machine door may need medical attention. A fire caused by frayed wiring in a clothes dryer can damage property.
To protect your business from the financial ramifications of these types of incidents, you need laundromat insurance. Also called laundry insurance, dry cleaner's insurance, dry cleaning insurance, and other names—depending on the focus of the business—these policies shield you from different kinds of risks. Having the right coverage can ensure that a lawsuit or property damage doesn't produce a loss that threatens the financial stability of your business. That's crucial because the reality is that, for many small businesses, bankruptcy can be just one uncovered incident away.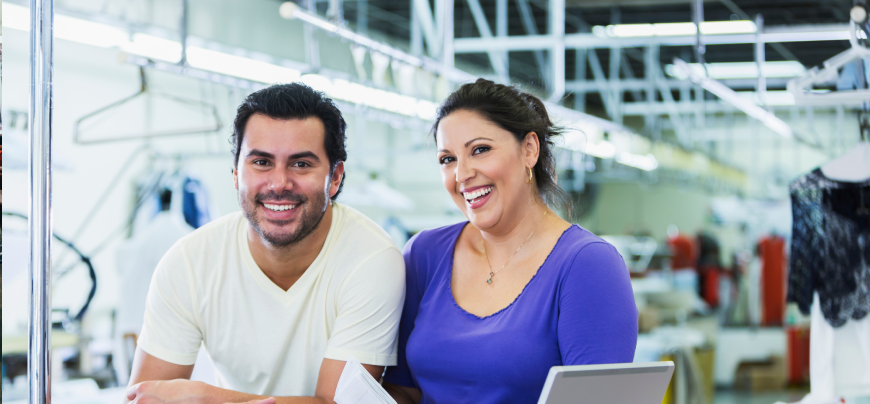 Should You Purchase Insurance for a Laundry Business? 
"Laundromat insurance" is shorthand for policies that protect businesses focused on cleaning clothes or enabling customers to do so. Many terms are used to refer to these types of companies, including:
Laundromat
Dry cleaner
Business laundry company
Clothes washing service
Laundry facility
Coin-operated laundry operation
Washhouse
Commercial laundry service
Launderette
Whatever you call your company, insurance for laundry businesses is essential.
Laundromat Insurance: Policies You May Need
Laundromat insurance is a type of business insurance. Companies like biBERK offer it as separate policies designed to cover different risks.
That approach benefits your laundry business in a few ways. First, it enables you to pick and choose coverages to create the ideal insurance portfolio for your company. Second, it saves you money. For example, if your laundry business doesn't own or lease any vehicles, you don't need to buy commercial auto insurance.
Laundromat insurance costs less than many people expect, but still, saving money on coverage lets you use it elsewhere, like to purchase new equipment.
Which laundry insurance policies do you need? That depends on multiple factors, including the specific type of business you operate, the risks you face, etc. However, every laundry business can benefit from one or more of these insurance policies.
check

General Liability Insurance. This insurance is designed for several risks, including injuries to non-employees like customers and damage to other people's property you or your employees cause. It can also pay costs related to libel, slander, and copyright infringement, such as in your advertisements. You can also add endorsements like cyber, hired and non-owned auto liability, employment-related practices liability, and employee benefits liability.

check

Workers' Compensation Insurance. Most states require this coverage for any company with employees. It helps protect your business if a worker is injured, contracts an illness, or dies due to an incident on the job. It can cover medical costs, legal fees, and lost wages due to the injury.

check

Commercial Auto Insurance. Some laundry businesses provide delivery service using company vehicles. This policy protects the business from potential exposure arising from accidents. It can cover your legal fees and the medical costs of others if you or your employee is at fault in an accident in your vehicle. It can pay for damages even if the vehicle is used for personal activities outside its primary business use.

check

Business Owners Policy. Also called property & liability insurance, a business owners policy (BOP) combines general liability insurance with protection for the property you own or lease for your laundry business. It can also pay for lost income due to a covered event. As with a general liability policy, you can tailor your BOP with add-ons, including cyber, hired and non-owned auto liability, employment-related practices liability, and employee benefits liability.

check

Umbrella Insurance. Liability insurance policies have a maximum they will pay in the event of an incident, with your company being responsible for any amount over that figure. Umbrella insurance adds another layer of protection, potentially covering costs that exceed the limit of another biBERK liability policy up to its own limit.
Our website has lots of helpful information as you research the necessary coverages for your business. That includes articles like this one and many others, FAQs, etc. Plus, our licensed insurance experts are available during business hours and happy to answer any questions. For example, how do you protect your laundry business when employees use their vehicles to run business errands or make deliveries? (Answer: The hired and non-owned auto liability add-on mentioned in the laundry insurance product descriptions above can address that risk.)
What Does Laundromat Insurance Cost?
Several factors will affect your laundromat insurance cost. They include the types of coverage you select, the size of your business, your claims history, and others.
However, we make it convenient to determine what you'll pay for crucial insurance coverage. You can get instant, self-service laundromat insurance quotes on our website whenever you have a little free time.
Generally speaking, you can buy a policy that provides hundreds of thousands of dollars in coverage for as little as a few hundred dollars annually. That's reassuring to business owners since even a minor incident can create a major liability.
Laundry insurance policies from biBERK are particularly affordable because we sell directly to you without brokers or other intermediaries. As a result, you'll find that our laundry business insurance can be up to 20% less than policies from other providers. You can move those savings right to your bottom line or use the money to improve your business!
Working with biBERK should also give you tremendous peace of mind. We're part of the Berkshire Hathaway Insurance Group. That means we have the financial resources to pay approved claims fully and promptly. And we've proven over several decades that we'll be there for business owners in a wide variety of industries if they're sued or suffer property damage.
Protect Your Livelihood With Laundry Insurance
biBERK is known for taking the hassles out of purchasing (and using) small business insurance. That includes laundromat insurance, dry cleaning insurance, or coverage for whatever type of laundry-focused business you operate.
We enable you to buy policies online, with coverage active as soon as the next day in most cases. You can also manage your policies and report claims on our website for maximum convenience.
Learn more about our laundry insurance policies and protect your business today!