How Small Business Insurance Protects Construction Companies & Contractors
Construction businesses and contractors face a wide variety of risks at job sites and beyond. An incident can be very costly if they don't protect themselves with adequate business insurance.
Client property damage, employee injuries, and other events can result in significant legal liability and losses. But the right small business insurance policies can prevent a business from taking on a large financial burden.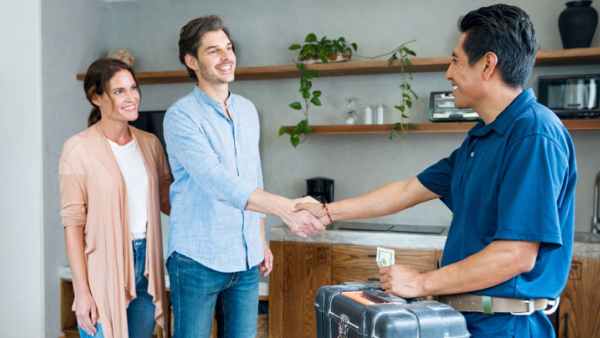 Common Incidents and the Construction Business Insurance Policies That Address Them
Construction company employees and contractors often work in environments that are somewhere between busy and chaotic. Consequently, it's easy to make a costly mistake, such as a plumber installing a pipe that subsequently leaks and causes damage or a roofing company installing a roof that fails to keep water out. Whatever the issue is, there are associated expenses. 
Because there is a great deal of variety in the types of risk construction professionals face, insurance companies like biBERK offer various policies. That's convenient and cost-effective for companies since they can purchase only the coverage needed to address their risks. 
What risks do construction companies and contractors have to contend with most often, and which insurance policies cover them? Below are a few examples.
Damage to customer property and injuries to non-employees. Construction workers make mistakes and are alleged to have made mistakes that can damage customer property or injure customers—and sometimes both at once. Imagine an employee inadvertently shatters a window, and the customer is cut by flying glass. Construction general liability insurance can cover costs related to replacing the window and liability for the customer's injury.
Employee on-the-job injuries. Let's say a worker suffers a deep laceration from a saw. Workers' compensation insurance can help here. It's typically required by law if you have employees and helps pay for an employee's medical bills and lost wages. In the event of a work-related fatality, the policy can provide a death benefit to surviving family members.
Loss of sensitive data. Someone steals your laptop and gains access to confidential client information. Cyber insurance, purchased as an add-on to other coverage like a general liability policy, can cover costs if fraud occurs or is likely to occur.
Auto accidents. It's a common occurrence with drivers: Something rolls off the passenger seat, they reach down to retrieve it, and wind up colliding with the vehicle in front of them that has braked suddenly. If this happens to an employee driving a company pickup, commercial auto insurance can protect your company from the financial repercussions, including a lawsuit from the other driver.
Incidents that exceed policy limits. An employee's careless use of a torch at a job site causes a fire that results in $300,000 in damage to the building. Your general liability policy has a $250,000 limit, but fortunately, you have an umbrella insurance policy with a $1,000,000 limit that can cover the $50,000 difference.
Damage to company property. Your tools or equipment get damaged or stolen. The repair cost may be covered by a business owners policy (BOP). A BOP provides both general liability coverage and protection for your business property in one easy-to-manage policy.
Financial Protection for Many Types of Construction Companies and Contractors
All types of construction businesses need business insurance, including:
New home construction companies
Flooring installation companies
Electricians and electrical contractors
Framers
Commercial remodeling businesses
Drywallers
Plumbers
HVAC companies and contractors
Painters
Cabinetry or interior trim companies
Handyman businesses
Commercial and residential iron and steel framing
Road and street construction companies
Fencing installation and repair businesses
Concrete construction companies
Carpenters
Glazing companies
Masons
Remodeling companies
Construction Business Insurance: Determining and Controlling Your Costs
What does construction company or contractor insurance cost? You can get instant, self-service, online quotes from biBERK for the insurance policies you need whenever you have some free time.
You can also keep your insurance costs low by taking these actions:
check

Educate yourself about business insurance and shop around. Learn about the coverages you need (and don't need). Then, compare insurance companies using important factors like insurance industry experience, financial resources for paying claims, etc. You should also pay attention to policy costs, of course, like the fact that biBERK's direct-to-you approach means we can offer coverage that's often up to 20% less than other providers. 

check

Focus on safety. Providing regular safety training and hiring careful subcontractors can help you operate with fewer incidents and injuries. And that can mean you pay less in deductibles. It can also have a positive effect on your premium.

check

Hire responsible drivers. If you have commercial auto insurance, your rate is partly based on the driving records of the people your policy covers. Hiring people with clean driving records is a good idea for many reasons, not the least of which is saving money on your commercial auto coverage. 

check

Ensure subcontractors have their own coverage. Workers' compensation and general liability insurance providers can charge you for a subcontractor's insurance if you don't prove they had their own coverage while on your job by collecting Certificates of Insurance (COI) from them.

check

Review your policies periodically. Annual policy reviews can help ensure that you have adequate coverage at a good rate. Getting assistance from a licensed insurance expert at biBERK makes this process fast and efficient. 
Construction Insurance Policy Endorsements for Added Protection
Endorsements are features that modify an existing insurance policy. In many instances, they enhance an underlying policy. 
For example, construction tools and equipment typically aren't protected by a business owners policy at the base level of coverage. However, you can add an endorsement to protect those items while they are on the job site, being transported, or temporarily in storage between jobs.
If you have questions about insurance for a construction company or contractor and the endorsements you need, a biBERK representative is happy to answer them.
Do Contractors Need Workers' Compensation Insurance?
While almost all companies with employees must have workers' compensation insurance, the rules are different for self-employed people who have no employees. 
As a contractor who meets that description, you typically are not required to have workers' compensation coverage. But there are scenarios where you may need workers' comp insurance. For example, some companies require that the contractors who complete projects for them have their own workers' comp coverage, as shown on a Certificate of Insurance (COI).
Workers' compensation insurance can also protect contractors from medical expenses related to on-the-job injuries or illnesses. In addition, a workers' comp policy can help replace lost wages while you're recovering.