How do Small Business Insurance Claims Work?
Small business insurance provides important financial protection. Without it, one accident or other incident can leave a company with a large financial burden. But how do small business insurance claims work? Find out below.
We also provide some business insurance claims examples.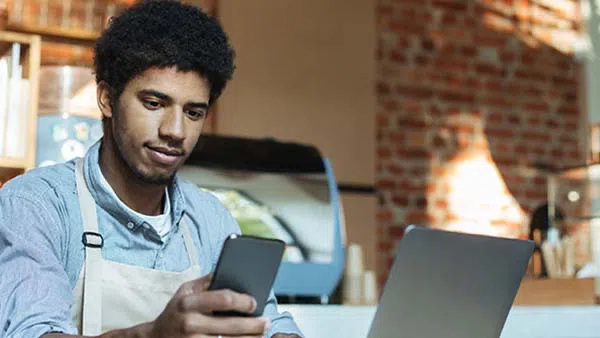 Be Proactive: Selecting the Right Small Business Insurance Policies
Before going over small business insurance claims, keep in mind that the first step in protecting your company from legal liability and losses is having the right small business insurance policies in place. This may include:
check

Workers' compensation insurance. This coverage, which is generally required by law if you have employees, protects your business if one of them is injured, gets sick, or dies as a result of an incident on the job. It can help cover commercial insurance claims like medical costs, legal fees, and lost wages.

check

General liability insurance. Also called commercial liability insurance, this insurance covers damages, legal costs, and medical expenses associated with injury claims from people who don't work for you (customers, for example), and damage to the property of others caused by your business. It also covers slander, libel, and copyright infringement.

check

Business owners policy. Also known as property & liability insurance, a business owners policy (BOP) combines general liability insurance with protection for your company's property. It can cover the building you own or space you lease, and other items you own, lease, or have in your care (such as stock or equipment). It also covers business interruption and lost income as the result of property damage, as well as costs you incur to resume business operations after suffering property damage, such as the use of a temporary location.

check

Errors and omissions (E&O) insurance. Also called professional liability insurance, this type of policy can protect you from the cost of damages and legal fees if someone claims you made a mistake in the professional advice you provided or failed to perform a service and, as a result, caused them or their business financial harm. This type of coverage is generally needed when a license is required to perform the work done by your business and/or if there are state or federal regulations that tell you how your business must be conducted.

check

Commercial auto insurance. This insurance protects the vehicles your business owns or leases, which includes covering liability associated with accidents caused by people driving them. It can cover the cost of damages even if the vehicle is used for personal activities outside of its primary business use.

check

Umbrella insurance. This coverage can address costs that exceed the limit of another policy, up to its own limit, so that you aren't responsible for paying them. In some instances, an umbrella policy may provide coverage when the primary policy, such as a general liability policy, does not, giving your business an extra layer of protection.

check

Cyber insurance. Purchased as an add-on to a BOP, general liability, or E&O policy, cyber insurance helps cover costs related to situations where a security breach or system hack has resulted in sensitive information being stolen and fraud has occurred or there is a reasonable expectation that it might occur.
Choosing the right type of coverage for your business is extremely important. You never know when you'll need to make a commercial insurance claim.
If you are unsure which of the above coverages are needed to protect your business, biBERK licensed insurance experts are happy to walk you through the process.
Insurance for Small Businesses: 5 Steps for Reporting a Commercial Insurance Claim
The second step in protecting your business is reporting a claim if an incident occurs. But if you've had the good fortune not to have to report a business insurance claim before, you may wonder how to do that.
biBERK's process is very simple and straightforward. Our mission is to make small business insurance easy, and that means having a streamlined claims process. And we're always happy to provide business insurance claim help if you need it.
The various types of insurance for small business all have roughly the same steps for reporting a small business insurance claims:
Get to know your insurance policies. The first step for reporting a commercial insurance claim should actually take place before any incident occurs. It's important that you know what types of incidents your policies cover so you understand when a claim is warranted. Be sure to read the information provided with your policies when you purchase them. And have a copy of your policy handy.
Collect information and evidence if an incident occurs.In order to report a commercial insurance claim, you'll need the details of what occurred. Take steps to collect and preserve information related to the incident, such as copies of documents, emails, texts, photos, and videos. The more information you have about an incident, the better.
File a police report if appropriate.If an incident involves the activities of other parties and laws were, or may have been, broken, you should contact the appropriate authorities. You may need a police report when you report your business insurance claims. And, of course, if there is ongoing danger to you or your property, getting the situation under control certainly takes precedence over any actions related to reporting a claim.
Report your claim online. If you're ready to move forward with reporting your commercial insurance claim simply visit our website and follow the guidance we provide to get the process moving. We're also available by phone if you prefer to call us to report a claim.
Contact biBERK if you have any questions. If you need help with your small business insurance claims, we're here to assist you! Don't hesitate to contact our licensed insurance experts about how to proceed in the wake of an incident.
How soon should you report small business insurance claims? Ensuring the safety of anyone affected by an incident is the top priority. But once that's done, you should report your claim as soon as possible. If you can't get to our website to start the process, you should call us as soon as you're able.
Understanding the Small Business Insurance Claims Process
Once you've notified us of your commercial insurance claim, our claims department assigns a licensed claims adjuster to assist you in the process. The adjuster contacts you promptly—typically within two business days of your report. 
They request that you provide them with information about the claim and may ask you and others involved in the incident questions to help them get a better understanding of the situation. It's important to cooperate with the adjuster and provide the materials they request. 
The adjuster uses this information to conduct their investigation. Depending on the complexity of an incident, an investigation may take only a few days or it may take a longer period of time. Throughout the process, the adjuster maintains regular contact with you. When they have completed their investigation of the commercial insurance claim, they explain to you how biBERK intends to resolve it.
If you have questions or concerns at any stage in this process, we encourage you to contact your adjuster. They understand that insurance coverage and claim investigations can be complicated and sometimes overwhelming, particularly when something unexpected has happened. Rest assured that our adjusters are always happy to explain the process to you in a simple and clear manner.
Liability Insurance for Small Businesses: Other Actions Related to Reporting a Claim
You know the value of liability insurance for small businesses, you have policies in place, and you've reported a business insurance claim. Keep in mind that there are other steps you may want to take related to the incident.
For example, you might want to contact your lawyer, or get one if you don't already have representation. You may also want to talk with your accountant about the financial ramifications of the incident. 
In addition, if the incident has interrupted your business, the sooner you take any steps necessary to get operational again, the better it will be for you and your employees. For example, if your place of business was seriously damaged and you'll need to find a temporary location, you should start that search as soon as you can. 
But the good news is that our team works quickly to address reported small business insurance claims and get you the compensation provided by your policy. We want your business to be back up and running fast, just like you do!