Everything You Need to Know About Home Inspector Insurance
As a home inspector, you face multiple types of risk in your work, and to keep yourself covered, you need home inspector insurance. For example, you evaluate countless the many characteristics of very different homes in every assignment. No matter how good you are at your job, you're almost guaranteed to miss something or make an inaccurate assessment at some point in your career—and any mistake can result in a lawsuit. Plus, you can be sued by a client who's simply unhappy with their purchase and have to defend yourself in court even though you've done nothing wrong.
There's also the risk of accidentally damaging a client's property. Something in your toolbelt catches the edge of a TV as you're attempting to check the outlet behind it and it crashes to the floor. The client will rightfully expect you to pay thousands of dollars to replace their TV.
In order to protect yourself from these and other risks, you need a solid home inspector insurance policy as part of your small business insurance portfolio. The term home inspector liability insurance encompasses multiple insurance policies that every home inspector needs, such as home inspector E&O insurance (i.e., home inspector errors and omissions insurance) and general liability insurance. If your business doesn't have adequate coverage for the various risks you face, you can be left with a large out-of-pocket expense if an incident occurs.
Sadly, many small businesses—including home inspectors—have to close their doors every year because of the huge financial burden from lawsuits and other expenses they didn't account for. This article provides important information about home inspector insurance and how biBERK business insurance protects you.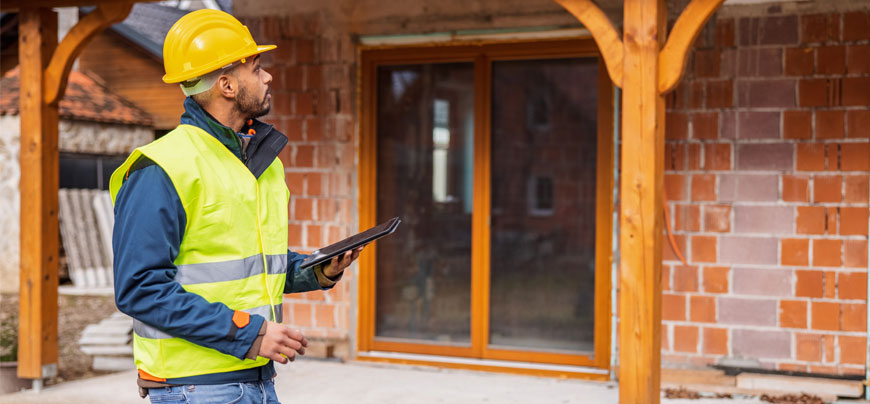 Is Home Inspector Insurance Required?
Not all states require home inspectors to have home inspector insurance. But given the risks involved in this profession, operating without home inspector liability insurance or home inspector errors and omissions insurance isn't a good business strategy. That's especially true since, as explained below, coverage is so affordable.
Plus, being able to say you're insured may help you attract new clients.
What are the Home Inspection Insurance Requirements?
What are the home inspection insurance requirements that every home inspector should consider? There are seven types of home inspection insurance designed to protect home inspectors like you. You may require some or all of them, and your home inspector insurance coverage can be tailored to your exact needs. The seven types of policies are:
Errors and omissions insurance. Home inspector errors and omissions insurance (sometimes called professional liability insurance) can protect you from the cost of damages and legal fees if someone claims you made a mistake or failed to perform a service and as a result caused them financial harm. For instance, if you fail to detect a plumbing leak and the new homeowner later discovers extensive water damage from that leak, you may be sued.
General liability insurance. Also known as commercial liability insurance, this policy covers damages and legal costs associated with injury claims from non-employees (clients, for example), medical expenses associated with these incidents, and damage to others' property during an inspection. So, if you leave a tool behind and a client slips on it and fractures their wrist or the ladder you're using in an inspection falls over and breaks a light fixture, your insurance can cover related expenses.
Business owners policy (BOP). Also called property & liability insurance, a BOP combines general liability insurance with coverage for space you lease (like an office) or property you own. It also covers business interruption and lost income as the result of property damage, as well as costs you incur to resume business operations after suffering property damage, such as the use of a temporary location. For example, if a pipe bursts in the building where you have your office and floods your space, a BOP can pay many of the costs of recovering from that incident.
Workers' compensation insurance. This coverage typically is required by law for any business that has employees. It's a type of insurance for home inspectors that provides benefits if your employees are injured, get sick, or die as a result of an incident on the job. It can help cover medical costs, legal fees, and lost wages, and can also provide a death benefit to the family of the deceased.
Commercial auto insurance. This type of policy protects the vehicles your business owns or leases, which includes covering liability associated with accidents caused by people driving them. Let's say you're operating a company-owned vehicle, accidentally run a stop sign, and hit another vehicle, damaging it and injuring the driver. If that driver sues you, your commercial auto policy can cover the damages you're ordered to pay plus legal fees, up to the policy's limit. This insurance can protect you even if a covered vehicle is used for personal activities outside of its primary business use.
Cyber insurance. You can purchase this type of home inspection insurance as an add-on to a BOP, general liability, or E&O policy. It helps cover costs related to incidents where a security breach or system hack has resulted in the theft of sensitive information and fraud has occurred or there is a reasonable expectation that it might occur. For instance, if a hacker gets access to a client's credit card information, your cyber insurance can cover you.
Umbrella insurance. This policy is sometimes called commercial umbrella insurance. It can cover costs that exceed the limit of another biBERK liability policy, up to its own limit. That way, you're not responsible for paying those costs.
What Are Some Examples of Home Inspection Insurance Claims?
Errors and omissions are the main sources of legal liability for home inspectors. That's why errors and omissions insurance for home inspectors is crucial. If you're accused of making a mistake that results in financial harm to your client and they sue you, your E&O policy can protect you. Insurance for a home inspector will protect you against claims made against you.
Home inspection insurance protects you in other ways, as well. For example, if your employee suffers a laceration on their head while inspecting someone's crawl space and it requires stitches, your workers' compensation policy can cover their medical expenses. Or, if you cause damage to a home's electrical system, your general liability policy can pay for repairs.
Commercial auto insurance can provide important protection if your company owns or leases vehicles. If, for example, company vehicles are vandalized, a commercial auto policy can cover the cost of repairs.
And if your liability for any incident where you're at fault exceeds the limit of the underlying biBERK home inspector liability insurance policy, an umbrella policy can make up the difference, up to its limit.
Home Inspector Insurance and the Resources Behind It
At biBERK, our mission is to help businesses operate more effectively and safely. To that end, we offer many risk-reduction resources—articles, flyers, videos, and more—that companies find very useful. We also stand behind policyholders if they're ever sued. For these and other reasons, it's good to have biBERK on your side.
What Does Home Inspector Insurance Cost?
The good news about insurance for home inspectors is that the policies are very affordable. That's especially true with policies purchased from biBERK, since our direct-to-you approach means we can offer policies at up to 20% less than other providers.
Your home inspector insurance cost will depend on factors like the size of your business, your experience, your home inspection insurance claims history, and others. But you can get fast, free, self-service home inspector insurance quotes for the policies you need online whenever it's convenient for you. You can also purchase policies in as little as five minutes, manage them, and report claims online with biBERK. And if you have questions, our licensed insurance experts are happy to assist you.