How Electrician Insurance Protects Your Company
Electricians know there are physical risks associated with their profession. If you don't do your work correctly and cautiously, you can be severely injured. But there are also financial risks.
Something as simple as accidentally knocking an electronic device off a desk with your toolbelt at a client's home or business can lead to an unexpected expense. If your work is faulty and causes significant property damage or injuries, a resulting lawsuit can be very costly. And there are other risks—damage to your company property, cyberattacks, etc.
The complexities of working as an electrician are why you should protect your livelihood with electrician insurance. If you don't have adequate coverage, the costs associated with lawsuits and losses must come out of your pocket. Sadly, it's not uncommon for uninsured or inadequately insured small businesses to collapse under the weight of a large, unexpected expense.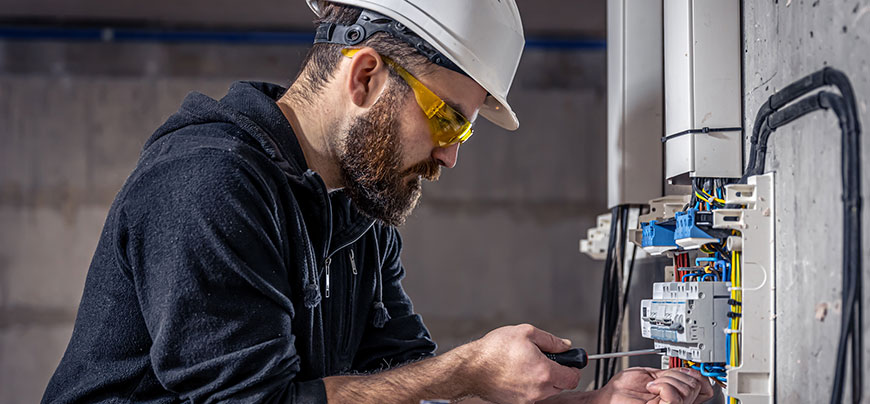 Whatever You Call Your Business, You Need Insurance for Electricians 
You might market your services to clients using another term for your expertise. But if the focus of your work is electrical, insurance is critical. Some of the many professionals who need electrician insurance include:
Commercial electricians
Residential electricians
Wiring experts
Construction electricians
Fiber optic testers
Electrical contractors
Master electricians
Electrical journeymen
Industrial electricians
Low-voltage electrical specialists
Electrical linemen
Electrical technicians
Maintenance electricians
Electrician Liability Insurance: 6 Policies Your Business Should Consider
Electrician liability insurance is another name for business insurance. It's sold as separate policies covering different risks.
For example, virtually every electrician business needs a general liability (GL) policy. A GL policy covers a wide variety of risks that can result in lawsuits, including bodily injury to others or accidental damage to other property while on the job, such as a mistake that starts a fire and damages a customer's property.
However, you might not require other policies. For instance, if you don't own or lease vehicles for business use, you won't need to purchase a commercial auto policy.
The great thing about this approach to providing electrician business insurance is that it helps you save money by enabling you to get only the coverage you need or are required to have (like workers' comp for companies with employees).
The six types of electrician insurance policies you're likely to want are:
check

General Liability Insurance. This type of policy covers several risks, including injuries to clients and other people who don't work for you and damage to other people's property caused by you or your employees. It can also pay costs related to libel, slander, and copyright infringement, such as in your advertisements. Plus, you can add endorsements to customize your policy, including contractors installation, tools & equipment, cyber, hired and non-owned auto liability, employment-related practices liability, and employee benefits liability. 

check

Commercial Auto Insurance. If your company owns or leases vehicles, this policy protects the business from potential exposure arising from accidents. It can cover your legal fees and the medical costs of others if you or your employee is at fault in an accident in your vehicle. It can pay for damages even if the vehicle is used for personal activities outside its primary business use. 

check

Business Owners Policy. This is also called property & liability insurance. A business owners policy (BOP) for an electrician combines general liability insurance with protection for the property you need to operate your electrician business. It can also pay for lost income due to a covered event. As you can with a general liability policy, you can tailor your BOP with add-ons, including contractors installation, tools & equipment, cyber, hired and non-owned auto liability, employment-related practices liability, and employee benefits liability. 

check

Workers' Compensation Insurance. Most states require this insurance for any company with employees. It helps protect your electrical contracting business if a worker is injured, contracts an illness, or dies due to an incident on the job. It can cover medical costs, legal fees, and lost wages due to the injury.

check

Umbrella Insurance. Every liability insurance policy has a maximum it will pay in the event of an incident, with your company being responsible for any amount over that figure. Umbrella insurance adds another layer of protection, potentially covering costs that exceed the limit of another biBERK liability policy up to its own limit.  

check

Cyber Insurance. You can purchase this coverage as an add-on to a general liability policy or a BOP. It helps cover costs related to system hacks or security breaches where sensitive data, like client credit card information, has been stolen and fraud has occurred or there is a reasonable expectation that it might happen.
If you need more information about any of the policies above, you can get it on our website. Even if you don't need a particular coverage today, it's a good idea to learn about what's available in case your requirements change.
If you have questions about what you read on the biBERK site, our licensed insurance experts are available during business hours and happy to answer them. For instance, if you think you should buy insurance for your electrical contracting company but need clarification on the appropriate policies, they can help you decide.
What Does Electrician Insurance Cost?
The premiums for electrical business insurance policies vary based on several factors: the type of coverage, the size of your operation, your claims history, and others. But you can quickly find out what you'll pay for electrician insurance with instant, self-service electrician insurance quotes for the various policies on our website.  
Typically, you can get a policy with hundreds of thousands of dollars in coverage for as little as a few hundred dollars annually. And whichever policies you purchase, you'll enjoy significant savings over buying from most other providers. That's because biBERK sells directly to you without brokers or other intermediaries. As a result, you can save up to 20% on your vital electrician business insurance. 
Our customers also trust us for their business insurance because we're part of the respected Berkshire Hathaway Insurance Group. That means we have the financial resources to pay approved claims fully and promptly. In addition, as a company, we've proven over several decades that we'll be there for business owners in a wide variety of industries should they be sued or suffer property damage. 
Take Action to Protect Your Business. Get Electrical Contractor Insurance Today!
We know you're busy and that researching and buying electrical contractor insurance is just one item on a long to-do list. That's why we work hard to make your experience fast, efficient, and stress-free. We enable you to purchase policies online, with coverage active as soon as the next day in most cases. You can also manage your policies and report claims online for maximum convenience. 
After taking a few minutes to purchase policies from biBERK, you can turn your attention back to operating your company. And you can sleep better at night, knowing you've done the right thing for your business, employees, and clients by obtaining proper insurance.
Check out our electrician insurance policies and get covered today!