Does Business Liability Insurance Cover Errors and Omissions?
Both business liability insurance, like a general liability policy, and errors and omissions insurance (also called E&O insurance or professional liability insurance) help protect your company from lawsuits and the associated costs. However, they're designed to address different kinds of risks.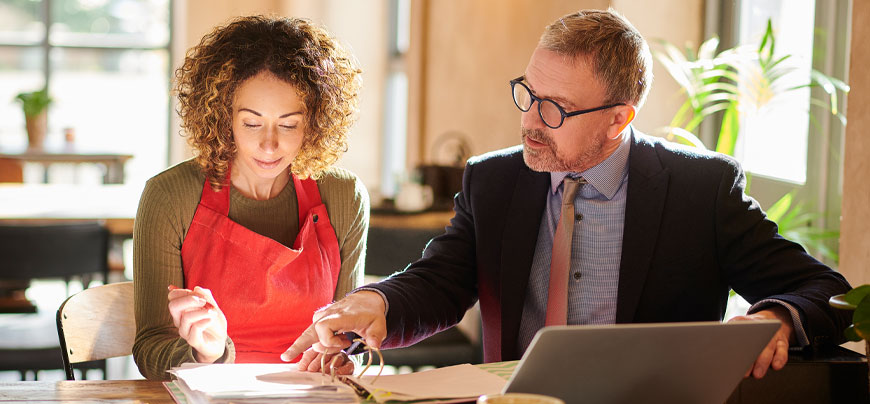 Understanding General Liability and Errors and Omissions Insurance
A general liability insurance policy provides coverage for incidents such as:
Damage to customer property, like if you're a contractor and you accidentally rupture a pipe causing flooding at the customer's place of business
Bodily injuries to non-employees, like when a customer or other visitor is hurt in a slip and fall accident
Product liability where an item you developed or sell harms someone or damages their property
Libel and slander, like if you make disparaging remarks about a competitor and it adversely affects their business
Errors and omissions insurance is for businesses that provide professional advice or services. It can cover things like:
check

Unfulfilled duties, where you're expected to take specified actions and fail to do so, like forgetting to file a required document for a client

check

Negligence in providing professional services, meaning you don't handle important tasks with proper care, such as a home inspector not identifying a defective smoke alarm

check

Errors, where you or an employee make a mistake that causes the client a financial loss, like booking the wrong flight for them
So, general liability does not cover errors and omissions, but there is insurance for that type of professional liability.
Who Needs Errors and Omissions Insurance?
Professionals in many fields can benefit from the financial protection of errors and omissions insurance, including:
Attorneys
Certified financial analysts
Financial advisor
Home inspectors
Insurance agents
IT consultants
Loss control inspectors
Notaries
Real estate agents and brokers
Software companies
Travel agents
Tutors
These are just a few examples. If you provide professional advice or services and think you might need errors and omissions insurance, contact us and we can help you decide if coverage is right for you.
What Does E&O Insurance Cost?
biBERK's E&O insurance policies start around $300 annually and can go up into the thousands. This cost is based on a number of factors, such as your specific industry, the level of coverage you choose, your years in business, number of employees, revenue, and the policy limits you need. 
You can determine your E&O insurance cost with an online quote. It takes just a few minutes, and you'll likely find that compared to the financial impact from a single professional liability lawsuit, protection is very affordable.
Does It Matter Where I get My E&O Policy?
Yes, where you get your E&O policy is important. For one thing, you want to keep your insurance costs as low as possible while maintaining adequate coverage. At biBERK, we don't use middlemen or brokers. Consequently, we're able to provide insurance directly to you for up to 20% less than other insurance companies.
The company behind your small business insurance matters, too. biBERK is part of Warren Buffett's Berkshire Hathaway Insurance Group with millions of satisfied customers, more than 75 years of insurance experience, and $38 billion in paid claims in 2020. So, we're a company with the expertise and financial resources that businesses can trust and rely on.
Errors & Omissions Insurance Frequently Asked Questions
Our licensed insurance experts are always happy to assist you. However, below are answers to errors and omissions insurance frequently asked questions for your convenience.
What's the difference between professional liability and errors and omissions insurance?
Those are actually just different names for the same type of insurance.
What is a retroactive date?
A retroactive date is a date agreed on by you and your current insurance company. Any work done by you before the retroactive date will not be covered under your current policy or this policy. If you have an existing policy, you can find the retroactive date in your current policy documents.
Who needs errors and omissions insurance?
If your business provides professional advice or services, or if required as a condition of employment or in the terms of a contract, you should have errors and omissions insurance. In some cases, coverage may be required by law.