Company Insurance Protects Businesses From Liability and Losses
Company insurance is a catchall term used to describe different insurance policies that protect businesses from the cost of legal liability and losses. For example, if your employee damages a customer's property, they can sue you. In that instance, a general liability policy can protect you. Or, if equipment you need to run your business is damaged, a business owners policy (BOP) may cover the replacement cost.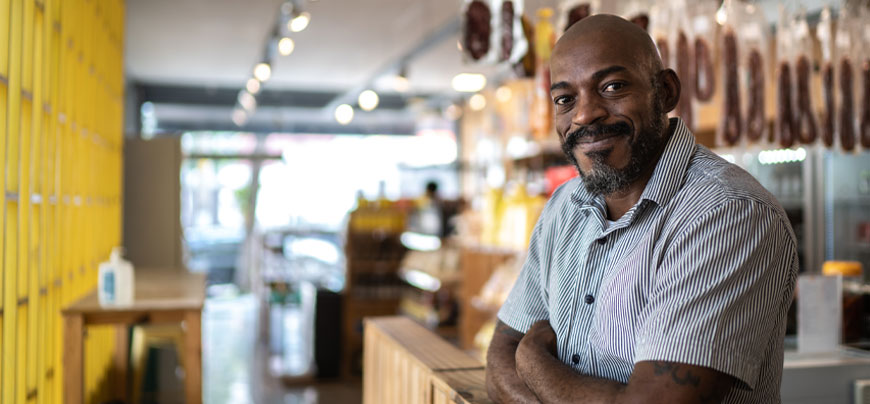 Policies Offered by a Commercial Insurance Company Like biBERK
As a leading commercial insurance company, biBERK offers seven types of coverage: 
Workers' compensation insurance. This coverage protects your company if an employee is injured, becomes ill, or dies as a result of an on-the-job incident. For example, if a worker falls and breaks their ankle, it can cover medical costs, legal fees, and lost wages due to the injury.
General liability insurance. This insurance covers injuries to non-employees, damage to the property of others, slander, libel, and copyright infringement. If, for instance, your crew scratches expensive hardwood flooring in a customer's home, this policy could cover the repair cost.
Business owners policy (BOP). Also called property & liability insurance, a BOP combines general liability insurance with coverage for company property. It's a convenient way to get wide-ranging coverage in one policy. In addition to the kinds of general liability protections noted above, if an incident occurs such as your equipment or building being damaged, the loss can be covered.
Professional liability insurance. Also called errors & omissions or E&O insurance, this coverage protects you if you provide professional advice or services and make a mistake in your work, like failing to file a tax return for your client by the deadline.
Commercial auto insurance. This insurance covers incidents that result from the business use of company-owned vehicles. Often, personal auto insurance policies don't provide coverage in those instances. For example, if your employee is at fault in a vehicle accident while transporting paying customers, this policy can protect you.
Umbrella insurance. Liability insurance policies all have a maximum amount they will pay. Umbrella insurance can provide additional payment if that amount is exceeded for a covered risk. This insurance can kick in if, for example, your negligence results in a customer being injured at your place of business and the cost is more than your biBERK general liability policy will cover.
Cyber insurance. Purchased as an add-on to a general liability policy, professional liability policy, or BOP, this insurance covers costs associated with data security breaches in which fraud has occurred or is likely to occur. For example, this coverage can help if customer credit card information is stolen.
In addition to the base coverage, you can add what are called endorsements to business insurance policies. For example, both BOPs and general liability policies can include add-ons like hired and non-owned auto liability, employment-related practices liability, and employee benefits liability.
What Does Company Insurance Cost? Get a Commercial Insurance Quote.
You can find out what you'll pay for coverage by getting free, self-service, online commercial insurance quotes for the policies you need. Your total cost will depend on the policies you buy and the amount of coverage you choose. Other factors play a role in your cost, as well, like where your business is located, the type of work you do, and your claims history.
After getting your quote, you can even purchase your company insurance policies from biBERK online. And if you have questions, our licensed insurance experts are always happy to answer them.
Customizing Your Business Insurance Coverage With Endorsements
As noted above, you can customize your coverage by adding what are called endorsements. An endorsement enhances or modifies the coverage, depending on your needs. Some of the most common insurance policy endorsements include:
Hired and Non-Owned Auto Liability
Hired and non-owned auto liability add-on coverage provides protection when you or an employee of your business is driving a rented, leased, hired, or borrowed vehicle for business purposes. A common example is an employee who makes deliveries using their own vehicle. Adding this endorsement to a general liability policy or business owners policy (BOP) provides liability protection for your business in case the employee is involved in an accident while working for you.
Employment-Related Practices Liability
This add-on protects your business in case of a claim or lawsuit related to inappropriate workplace behavior like wrongful termination, harassment, or discrimination.
Employee Benefits Liability
Employee benefits liability add-on insurance provides coverage in the event of mistakes in how you administer your employee benefits program. For example, it can protect you if you fail to add an employee to your medical insurance and the person is later denied coverage by the plan.
Contractors Installation, Tools & Equipment
This add-on insurance covers your business's property, tools, equipment, etc. while at a job site, in transit, temporarily in storage, or during installation. It can also cover materials and supplies in your possession that are to be installed.
Cyber Liability
Cyber liability add-on insurance protects your business in the event of an incident like a data breach regarding private customer, employee, or client information. It can also provide coverage for regulatory action defense if a government agency requires you to appear in court.
Liquor Liability
Liquor liability add-on insurance covers liability your business may incur from the selling, serving, or furnishing of alcoholic beverages. For example, it can provide coverage if your business is found liable because you served a minor or someone visibly intoxicated who subsequently gets into a car accident. This add-on insurance can be helpful for any business that sells alcohol including restaurants, convenience stores, and liquor stores.
You can always contact us if you have questions about whether you need endorsements to provide comprehensive protection.
Why Choose biBERK for Company Insurance?
Small businesses in a long list of industries choose biBERK because we've got the experience and the financial resources to protect them. 
We're part of Warren Buffett's Berkshire Hathaway Insurance Group with millions of satisfied customers, more than 75 years of insurance experience, and $38 billion in paid claims in 2020. So, when you get your company insurance from biBERK, you know you're working with a provider you can count on.
In addition, we insure your company directly, without middlemen or insurance brokers. The result is that you can save up to 20% over other insurance companies.
Company Insurance Frequently Asked Questions
Our licensed insurance experts are always happy to talk with you about your company insurance needs. But for your convenience, answers to some of the questions we're asked most frequently are below. 
Am I required to have company insurance?
Certain types of insurance coverage may be required in your state and for your type of business. Plus, some companies require that the businesses they work with have insurance and some landlords require that you have insurance coverage.
What types of company insurance do I need?
Each business has different insurance requirements. Getting a self-service online quote or talking with our insurance experts are two great ways to figure out what you need. But there are some "rules of thumb" to use as guidance. General liability insurance is needed if customers visit your location, and errors and omissions insurance (also called professional liability insurance) is important for individuals or businesses that provide professional services or advice. If you have assets like equipment and furniture, or if you own buildings, a business owners policy (or BOP—also called property & liability insurance) is important. And if you have employees, you'll probably be required to have a workers' compensation policy.
Does biBERK offer company insurance in my state?
Most likely, yes. But it depends on the state you're in and the type of insurance you're looking for. You can review our coverage maps for details
How long does it take to get company insurance?
With biBERK, you can purchase a policy online in as little as five minutes, with coverage beginning as soon as the next day in most cases.