How Cleaning Business Insurance Protects Your Company
Whatever type of cleaning or janitorial services you provide—for homes, businesses, government entities, etc.—you're dealing with spaces and property that belong to others. If you or someone working for you accidentally causes some damage, you can be sued. 
You also face the possibility of damage to your property—the tools and equipment you use, your company vehicle if you have one, etc. 
Those risks are why you need cleaning business insurance.
Imagine that you're cleaning a company's conference room and knock a large video monitor off the wall and it crashes to the floor. The business owner will expect you to replace the $5,000 device. If you don't have cleaning company insurance, that amount will have to come out of your business revenue or savings. On the other hand, if you have a policy that considers this a covered incident, you only have to pay any policy deductible. 

It's an unfortunate truth in this industry that many cleaning and janitorial companies are forced out of business by this type of incident and the huge expense it can cause. You want yours to be a business that stays in business because it has adequate financial protection.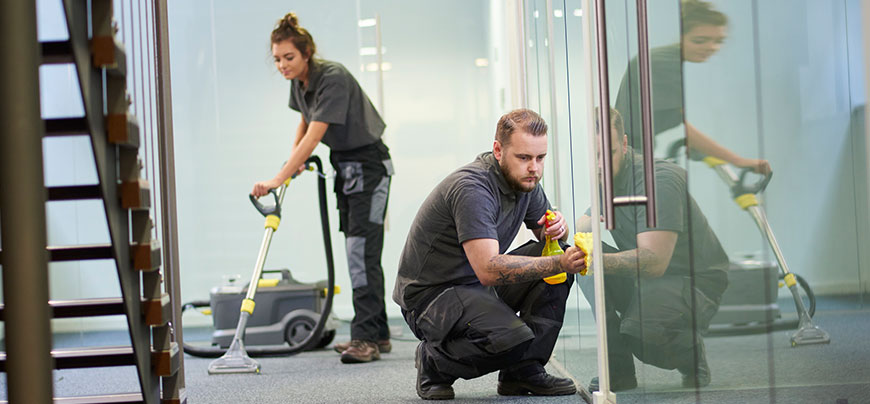 Does Your Company Need Cleaning or Janitorial Insurance?
If you're asking yourself that question, the odds are that the answer is, "Yes." Many types of cleaning and janitorial-related companies should have business insurance, including:
Cleaning services
Janitorial companies
Housekeepers
Carpet cleaning companies
Maids
Dry cleaners and launderers
Window cleaners
Air duct cleaning services
Street cleaning services
Waste and garbage collection companies
Sewer cleaning services
Swimming pool cleaners
If your company provides any kind of cleaning or janitorial service, you almost certainly can benefit from  business insurance.
6 Crucial Types of Cleaning and Janitorial Business Insurance
Cleaning and janitorial business insurance is a type of business insurance. There are several policies that your cleaning business might need, each addressing a different kind of incident.
For instance, a general liability policy can cover your business if an employee damages flooring or furniture by using the wrong cleaning solution and you're required to replace it. Or, if an employee driving a company van causes an accident where a third party sues your business, a commercial auto policy could pay those costs.
Do you need to have every type of business insurance? No, you probably don't. You only need to carry the types of insurance that cover risks you face. For instance, if you don't have a company van or other vehicles, you don't need to pay for a commercial auto policy.
That being said, every cleaning or janitorial company faces risks and needs insurance to protect the business. The policies most often purchased by cleaning and janitorial companies are:
check

Workers' Compensation Insurance. Most states require this insurance for any company with employees. It helps protect your cleaning business if a worker is injured, contracts an illness, or dies due to an incident on the job. It can cover medical costs, legal fees, and lost wages due to the injury.

check

General Liability Insurance. This type of policy covers several risks, including injuries to clients and other people who don't work for you and damage to other people's property caused by your employees. It can also pay costs related to libel, slander, and copyright infringement, such as in your advertisements. Plus, you can add endorsements to customize your policy, including cyber, hired and non-owned auto liability, employment-related practices liability, and employee benefits liability. 

check

Business Owners Policy. This is also called property & liability insurance. A business owners policy (BOP) combines general liability insurance with protection for the property you need to operate your cleaning or janitorial business. It can also pay for lost income due to a covered event. As you can with a general liability policy, you can tailor your BOP with add-ons, including cyber, hired and non-owned auto liability, employment-related practices liability, and employee benefits liability. 

check

Commercial Auto Insurance. If your cleaning company owns or leases vehicles, this policy protects the business from potential exposure arising from accidents. It can cover your legal fees and the medical costs of others if you or your employee is at fault in an accident in your vehicle. It can pay for damages even if the vehicle is used for personal activities outside its primary business use.  

check

Umbrella Insurance. Every liability insurance policy has a maximum it will pay in the event of an incident, with your company being responsible for any amount over that figure. Umbrella insurance adds another layer of protection, potentially covering costs that exceed the limit of another biBERK liability policy up to its own limit.  

check

Cyber Insurance. You can purchase this coverage as an add-on to a general liability policy or a BOP. It helps cover costs related to system hacks or data security breaches where sensitive data, like customer credit card information, has been stolen and fraud has occurred or there is a reasonable expectation that it might happen.
Whenever it's convenient, you can get additional information about each of these policies on our website to start learning about the various coverages you might need. Then, if you have questions about them, our licensed insurance experts are available during business hours and happy to answer them. For instance, if you think you should buy insurance for your cleaning business but need clarification on which policies are appropriate, they can help you decide.
What Does Insurance for a Cleaning Company Cost?
The premiums for the different cleaning business insurance policies vary based on several factors: the type of coverage, the size of your business, your claims history, and others. But you can quickly find out what you'll pay with instant, self-service cleaning business insurance quotes on our website.
Typically, you can get a policy with hundreds of thousands of dollars in coverage for as little as a few hundred dollars annually. And whichever policies you purchase, you'll enjoy significant savings over buying from most other providers. That's because biBERK sells directly to you with no brokers or other intermediaries. As a result, you can save up to 20% on your vital business insurance.
Our customers also find it reassuring that we're part of the Berkshire Hathaway Insurance Group. That means we have the financial resources to pay approved claims fully and promptly. In addition, as a company, we've proven over several decades that we'll be there for policyholders in a wide variety of industries should they be sued or suffer property damage.
Buying Cleaning Company Insurance is Simple!
Our focus as a leading provider of cleaning business insurance is making it easy to get the reassuring financial protection you need. So, we enable you to purchase policies online, with coverage active as soon as the next day in most cases. You can also manage your policies and report claims online for maximum convenience.
You've got a business to run and cleaning to do. After taking a few minutes to purchase policies from biBERK, you can turn your attention back to operating your company. You can also rest easy at night, knowing we're here for you with solid financial protection should you ever be sued or suffer property damage.
Check out our cleaning business insurance policies and get covered today!