How Small Business Insurance Protects Restaurants
If you own a restaurant, it's crucial to have restaurant business insurance. That's a term encompassing multiple policies, each designed to cover a particular type of risk.
For example, general liability insurance can protect you if a guest trips over damaged carpet in your lobby, breaks their arm, and sues your restaurant for the cost of their medical care. A workers' compensation policy covers a different risk—specifically, the healthcare expenses and lost wages if an employee is injured in an on-the-job accident.
The great thing about restaurant business insurance being sold as different policies is that you can purchase the ones you need and disregard those you don't. For instance, if your restaurant doesn't own or lease vehicles for work purposes, you don't need a commercial auto policy.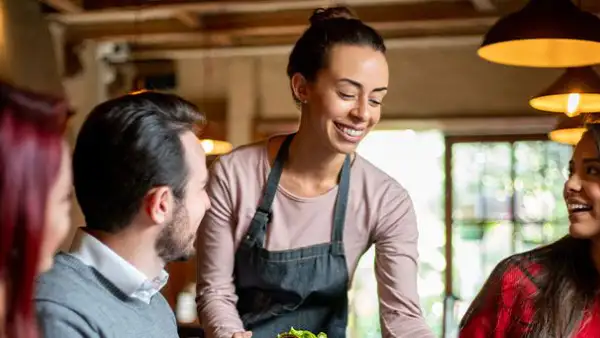 Liability Insurance for Restaurants is Essential
It's tempting to believe that if you run your restaurant carefully, you'll never be sued. Being a responsible business owner/operator certainly reduces your liability risk, but some things simply are outside your control. That's why liability insurance for restaurants is so important.
The fact is that the financial repercussions of one lawsuit (court-awarded damages, legal defense costs, etc.) can be more than some small businesses can bear. But with the right policies in effect, those costs can be covered, allowing you to stay in operation. That's good for you, your employees, and your customers.
6 Important Restaurant Business Insurance Policies
Every restaurant faces a unique set of risks, but all require one or more of six important policies:
Restaurant Workers' Compensation Insurance
One of your employees suffers a serious cut requiring medical treatment. Workers' comp can cover their medical costs and lost wages related to the injury. States require nearly all companies with employees to have workers' comp coverage.
Restaurant General Liability Insurance
Some owners will ask, "What type of insurance protects restaurants when a food-borne illness breaks out?" While it's rare that a customer will be stricken with a food-borne illness, a general liability policy can help in that situation. It's a form of business liability insurance that also covers more common incidents like a customer slipping on your icy sidewalk, suffering an injury, and suing you. General liability also covers things like libel, slander, and copyright infringement. Plus, you can add endorsements to customize your policy, including cyber, hired, and non-owned auto liability, employment-related practices liability, and employee benefits liability.
Restaurant Commercial Auto Insurance
An employee driving your delivery van causes an accident that injures another driver and damages their vehicle. Commercial auto insurance can cover your legal fees and the medical costs of others. It can pay for damages even if the vehicle is used for personal activities outside of its primary business use.
Restaurant Business Owners Policy
A fire destroys some expensive equipment and damages the walls in your kitchen. A business owner's policy (BOP) can pay to replace it and cover the cost of structural repairs. Also called property and liability insurance, a BOP combines general liability protection and coverage for business property. It can also provide payment for business interruption due to a covered loss, including expenses associated with continuing or resuming operations after suffering property damage. Plus, you can tailor your BOP with add-ons, including cyber, hired, and non-owned auto liability, employment-related practices liability, and employee benefits liability.
Restaurant Cyber Insurance
Someone breaches your computer network, steals customer credit card numbers, and uses the information to commit fraud or is likely to do so. This coverage, purchased as an add-on to a BOP or general liability policy, can pay costs related to cyber incidents.
Restaurant Umbrella Insurance
If a lawsuit filed by a customer exceeds the limit of the underlying biBERK liability policy, an umbrella insurance policy can cover the difference up to its own limit. Without it, you may be responsible for anything over your policy limit.
Who Needs Business Insurance for Restaurants?
You may require so-called "business insurance for restaurants" even if you or your customers call your business something else, such as:
Bar and grill
Bistro
Buffet
Café
Caterer
Coffee shop
Concession stand
Diner
Deli
Food truck
Family restaurant
Fast food establishment
Fine dining restaurant
Juice bar
Pizzeria
Pub
Sandwich shop
Snack bar
And if your business is somewhat "restaurant-adjacent" in terms of its operations and you aren't sure about your insurance needs, contact us and one of our licensed insurance experts can help you decide on the proper coverage.
Restaurant Business Insurance Coverage for Just Hundreds Annually
Your cost for restaurant business insurance depends on multiple factors, including your company's size, claims history, and other considerations. However, you can typically get hundreds of thousands of dollars of financial protection for as little as a few hundred dollars per year.

You can determine your actual cost for policies with instant, self-service quotes. If you decide to buy your coverage from biBERK, you can purchase policies, manage them, and report claims on your website, as well, for maximum convenience.
A Leader in Liability Insurance for Restaurants
biBERK is a Berkshire Hathaway Insurance Group company. As an organization, we have over 75 years of insurance experience and millions of satisfied customers. That means if you ever need to report an incident, you can be confident that we'll support you in the aftermath and pay any covered claim promptly.