What is a Garage Keepers Insurance Add-On Policy?
Garage keepers insurance is an add-on (also known in garaging insurance as an endorsement) that can be included with a business owners policy or BOP (also called property & liability insurance) or other types of insurance. A garage keepers insurance policy provides protection in situations where a customer's vehicle is under your care, custody, control, or possession.
In other words, they've handed you the keys and the car is either awaiting service, being serviced or tested, or awaiting pickup by the customer. With garage keepers insurance, if the car is damaged during that period, the endorsement to your business owners policy can protect your business. In this guide, we'll explain everything you need to know about garage keepers coverage, including what it does and doesn't cover, the differences in some of the policies, and, of course, the all-important garage keepers insurance cost, so you know what you'll be charged.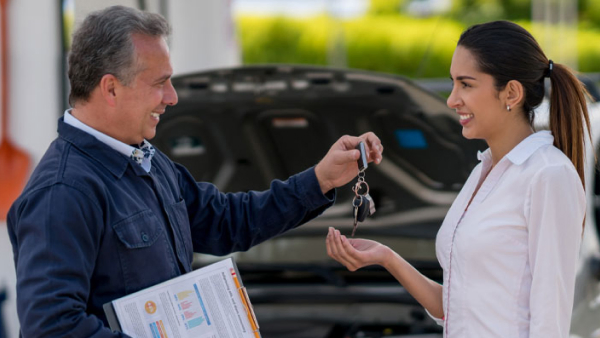 Understanding Property and Liability Insurance in General
Property and liability insurance (i.e., a business owners policy) provides coverage that's a combination of general liability insurance and commercial property insurance. This includes property damage, bodily injury, an owned or leased space, and more. Getting these coverages in one policy is a common approach for small businesses.
Combining these two important kinds of protection provides multiple advantages, including:
check

Broader coverage. More types of risk and potential claims are covered by a property and liability insurance policy.

check

Simplified policy management. Fewer individual policies makes managing your insurance coverage easier, including if you have to report a claim, since more incidents fall under this one policy.

check

Potential savings. In some cases, getting property coverage and liability coverage under one property and liability insurance policy can be more cost-effective than having two separate policies.
So, having property and liability insurance is beneficial, even if you don't add a garage keepers insurance endorsement.
What is Garage Keepers Insurance and What Does It Cover?
A garage keepers insurance endorsement to your business owners policy has two different components, both of which biBERK covers. 
Legal liability protects your business if one of your employees makes a mistake that causes damage to a customer's vehicle. For example, if a mechanic accidentally scrapes the side of a customer's car while backing it out of a bay, that can be covered by a garage keepers endorsement.
Direct primary garage keepers coverage addresses damage that results from severe weather or theft. As long as you attempted to protect the vehicle prior to the incident, you may be covered. 
These primary aspects of a garage keepers insurance coverage add-on to a business owners policy work together to protect your business whenever you're in possession of a customer's vehicle.
Garage Liability vs. Garage Keepers Insurance
The name garage liability insurance sounds like garage keepers insurance, but it's not the same thing. Garage liability insurance is designed to cover bodily injuries or property damage caused by the operation of a garage business. In other words, a garage liability insurance policy is not focused on customer vehicles you have in your possession, but on your operations more generally. 
A common example used to explain the difference between garage keepers insurance and garage liability insurance is a situation where your mechanic is working on a customer's car, takes it out for a test drive, and is at fault in an accident that injures another driver and damages their vehicle. Garage keepers insurance covers damage to the car your employee is driving (the customer's vehicle), while garage liability insurance covers costs associated with the accident and resulting liability (settlements, judgments, court costs, etc.). 
What Does a Garage Keepers Insurance Add-On Cost?
A few factors affect the cost for a garage keepers insurance policy. They include where the business is located, your annual revenue, and the type and number of vehicles you repair or service.
When you contact biBERK for a quote, we'll ask you all the pertinent questions to make sure we give you an accurate quote that suits the needs of you and your business. If you have any other questions about this type of policy, you can talk to our qualified and friendly insurance experts. They'll be more than happy to assist you with your inquiries.
Where You Purchase Your Business Owners Policy and Garage Keepers Insurance Matters
Having a business owners policy and garage keepers add-on coverage backed by the right company is important. biBERK is part of Warren Buffett's Berkshire Hathaway Insurance Group with millions of satisfied customers, more than 75 years of insurance experience, and $38 billion in paid claims in 2020.
That means we've got the experience and financial resources to protect you and your business properly. There's more to insurance coverage than simply searching for the best garage keepers insurance cost. The last thing you want when a customer's car is damaged is to learn that your insurance company can't cover and support you the way you thought they would. When it comes to finding garage keepers insurance companies that care, you'll see that we have your back should the unexpected happen.