Why Is It Important to Prepare Your Business for Inclement Weather?
Wherever you are in the U.S. there's a risk of inclement weather negatively impacting your business. From tornadoes and hurricanes to blizzards and severe thunderstorms, the potential for property damage and business interruption is ever-present and something you have to be aware of.
That's why preparing for bad weather—including having the right business insurance—is so important. If you wait until there are storm clouds on the horizon, chances are your business will be hurt by the event. But if you learn how to prepare for severe weather and take action today, the impact on your business will likely be much less when the next storm strikes.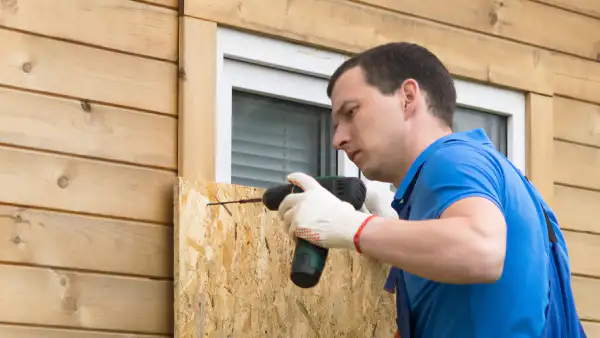 The Rise in Natural Disasters and Severe Weather Events
Many areas of the U.S. have experienced an increase in the number and severity of weather events in recent years. What that means for businesses is that the steps you took to prepare for bad weather in the past may not be enough to protect your business today.
Perhaps you've always been fortunate enough to avoid damage to your property when storms move through your area. Unfortunately, you can't count on that continuing to be the case. So-called 100-year storms seem to be happening much more frequently than that these days!
In order for your business to be properly protected, you've got to have a plan for minimizing damage as best you can and recovering from damage if it occurs.
Preparing for Bad Weather: 7 Important Steps
The good news is that you don't have to sit back and wait to see if severe weather and natural disasters will spare your business. You can be proactive and take the steps below so that you know you're ready to respond when bad weather strikes.
Get and maintain adequate small business insurance coverage. For example, a business owners policy or BOP (also called property & liability insurance) typically covers wind damage to a building you own and also business and personal property in your building. But it probably doesn't cover damage caused by flooding or tidal action. Flood insurance, typically provided by the National Flood Insurance Program, is needed to cover those and related risks. A BOP is also a form of business continuity insurance or business interruption insurance—meaning that it pays for costs associated with operating from an alternate location if weather damage forces you out of your building temporarily. Commercial auto insurance is another type of small business coverage that can be helpful if you own or lease vehicles. It can protect them from specific hazards.
Create a weather emergency action plan. You and your team may have an idea of what you need to do to protect your business if a severe storm develops, but it's important to create a written plan and let everyone know where to find it. This plan should include sections on how to secure physical and electronic files, how to minimize the potential for damage to your building and other property, and guidelines for remote working if appropriate, to name just a few.
Protect your people—first and foremost. This goes without saying, but property can be replaced—the people who work for you are irreplaceable. If you have to activate your emergency weather plan, be sure to do so well in advance of a storm so that everyone can get home safely.
Get into the habit of checking the weather forecast. If you don't already check the daily and extended weather forecasts regularly, you should. That way you won't be caught off guard if, for example, a weather system with the potential to spawn tornadoes is moving toward your area.
Take steps to protect your property. How you prepare for the arrival of severe weather will vary based on the type of weather, the type of business you run, etc. But be sure you know what actions need to be taken and how much time it will take you to be fully prepared. This includes things like ensuring pipes are insulated to protect from freezing temperatures and boarding up windows when a hurricane is approaching.
Notify your customers and others. If it seems as though you might experience an interruption to your business operations, be sure to let your customers, vendors, business partners, and others know. They may be unaware of the weather in your area. Getting the word out about your situation can include changing the voicemail message on your business line, putting a banner at the top of your website homepage, etc.
Find recovery resources in advance. Who can assist you if your roof is damaged, windows are broken, your electrical system goes down, etc.? You want to have relationships with those companies before a storm hits for a few reasons. One is that if your business sustains damage in a storm and you haven't yet found service providers, the stress of what you're going through may make it hard to focus on that task. Plus, if there's widespread damage in your area, you want to get on a service provider's calendar without delay. Recovery resources may also include financial and other assistance from state and federal agencies, so keep that in mind.
Small Business Insurance and an Action Plan: Crucial Protection From Natural Disasters
Needless to say, companies that have a weather emergency action plan and also the best business insurance for natural disasters like storms can get back to "business as usual" more quickly than those that haven't prepared. Be sure you're protecting your business from storm damage—both physically and financially!