out of 5 customer review rating and 200,000+ policies sold.
Protect Your Commercial Vehicles
Being aware of what type of insurance a business needs is important, and deciding whether your business even requires a commercial auto policy can be challenging. We can help you assess your needs and evaluate your option
What is Commercial Auto Insurance?
Vehicles used in conducting business, as opposed to those strictly for personal use, are typically insured under a commercial auto insurance policy, which protects the assets of a company from claims. A commercial auto insurance policy has different coverages that are designed to address particular business needs.
What Vehicles are Covered by Small Business Car Insurance?
Small business car insurance protects a wide range of vehicle types. Just about any kind of vehicle you drive or trailer you pull can be covered, including:
Cars
Limousines
Pickup trucks
Buses
Food trucks
Motorcycles
Delivery/cargo vans
SUV's
Tow trucks
Passenger vans
Box trucks
Flatbed trucks
Dump trucks
Dry van trailers
Refrigerated trailers
What Does Commercial Auto Insurance Cover?
check Bodily Injury Liability Coverage
This coverage provides payment in cases of bodily injury or death resulting from an accident for which you are at fault. This may also include legal defense expenses depending on the type of policy purchased.
check Property Damage Liability Coverage
If your vehicle accidentally causes damage to another person's vehicle or property, this coverage can protect you. That can include legal defense expenses depending on the type of policy purchased.
check Medical Payments, No-Fault or Personal Injury Coverage
This coverage provides payment for any medical expenses that may arise due to an employee or a passenger traveling in your vehicle, regardless of who is at fault in an accident.
check Uninsured Motorist Coverage
This coverage provides payment for any medical expenses, or in some cases property damage, that may have been caused by a hit-and-run driver or an uninsured driver. Underinsured motorist coverage (when the at-fault driver has insurance but not sufficient insurance to cover the damage caused) may also be included depending on the type of policy.
check Comprehensive Physical Damage Coverage
This is coverage for vehicles or trailers on your policy for damage caused to them other than a car accident. Examples include damage resulting from theft, vandalism, flood, fire, and other specified hazards.
check Collision Coverage
This is coverage for vehicles or trailers on your policy for damage caused to them by a collision with another vehicle or a single-car accident.
Who Should Consider Small Business Auto Insurance?
Any company that uses vehicles should have small business auto insurance to protect them. We provide coverage for these kinds of businesses and many others:
Accountants
Architects and engineers
Bakeries
Business management consultants
Cleaning and janitorial companies
Contractors
Corporate trainers
Dog walkers and pet sitters
Electricians
Food service companies
Home inspectors
Insurance agents
IT consultants
Landlords
Landscape companies
Personal trainers
Photographers and videographers
Retail businesses
Transportation companies
Tutors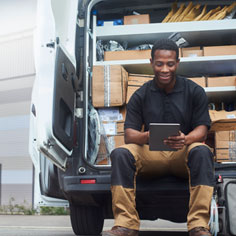 How are Commercial Vehicle and Personal Auto Policies Different?
Both commercial vehicle insurance policies and personal auto policies provide coverage for liability, collision, comprehensive, medical payments (or personal injury protection), and uninsured motorist exposures (sometimes underinsured motorist, too). However, a commercial auto insurance policy may be very different from your personal auto policy due to separate eligibility criteria, definitions, coverages, exclusions, and limits.
Why biBERK for Commercial Auto Insurance?
We're the experts when it comes to insuring small businesses.
Save Time
Get a quote entirely online or speak with one of our insurance experts right away for help getting a quote, buying a policy, or answering any questions you may have.
Save Money
We insure your small business directly, without a middleman or insurance broker, so we pass that savings along to you - up to 20% less than policies with other insurance companies.
Experienced
We're part of Warren Buffett's Berkshire Hathaway Insurance Group with millions of satisfied customers, more than 75 years of insurance experience, and $38 billion in paid claims in 2020.
What's not Covered by Small Business Auto Insurance?
Small business auto insurance provides valuable financial protection and peace of mind in many ways. However, there are certain types of incidents that aren't covered by your policy. Some of these exclusions are:
Intended or expected property damage or injuries
Property damage or bodily injuries that you cause intentionally or might reasonably expect to occur as a result of your actions are not covered.
Racing
Damage or injuries caused by racing are excluded from coverage.
Mobile equipment operation
Liability associated with the use of mobile equipment like a forklift or crane is not covered.
Injuries covered under workers' compensation
Injuries addressed by a workers' comp policy are not covered by commercial auto insurance.
Hired and non-owned vehicles
Only vehicles listed on the policy are covered. Temporary rental vehicles are covered if your listed vehicle is being repaired, serviced, or suffered a total loss. If you get a replacement vehicle for a vehicle that is listed on the policy, you have 30 days from when you buy it to replace it on our policy. Other vehicles that you may rent or use are not covered by this policy. For example, employee-owned vehicles or borrowed vehicles are not covered, but hired/non-owned coverage can be added to a general liability policy or business owners policy (BOP) to cover those vehicles.
This is a partial list of exclusions. Our insurance experts can provide more details.
Get a Commercial Auto Insurance Quote Today
Find out how affordable commercial auto insurance can be.