out of 5 customer review rating and 200,000+ policies sold.
Protect Yourself From the Unique Risks Experts Face
From negligence like failing to secure coverage for a client to loss of sensitive client data to bodily injury, insurance agents have to be prepared for the potential financial impact from a wide range of risks.
When you make a living off your expertise, you need comprehensive, cost-effective insurance to protect you financially from damages or legal costs that may arise. Professional liability (E&O) insurance, also known as errors and omissions or professional indemnity insurance, provides the coverage you need. And when you get it from biBERK, you'll save up to 20% over other providers.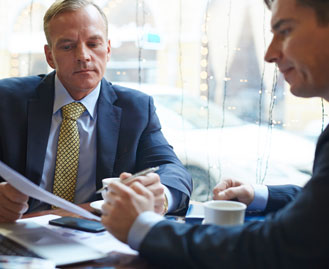 What is Professional Liability (E&O) Insurance?
As a professional, it's your responsibility to adhere to certain standards and best practices for your industry. If a client feels that you made a mistake or oversight with your services, they could claim that you didn't meet those standards and sue your company for economic damages. Errors and omissions insurance protects you in the event that a client accuses your business of making a mistake (an error) or failing to do something (an omission) – even if that claim proves to be unfounded.
Who Should Consider Professional Liability (E&O) Insurance?
Accountants
Advertising consultants
Answering services
Architects and engineers
Audio/visual consultants
Barbers and beauticians
Billing services
Bookkeepers
Business management consultants
Certified financial analysts
Claim administrators
Communications/media/public relations consultants
Compensation and benefits consultants
Corporate trainers
Dog groomers
Educational consultants
Executive coaching consultants
Funeral directors
Graphic designers
Home inspectors
Image consultants
Insurance agents
Interior designers/decorators
IT consultants
Journalists/broadcasters
Landscape architects
Loss control inspectors
Market research consultants
Notaries
Optical and hearing aid professionals
Personal trainers
Photographers
Printers
Procurement consultants
Project management consultants
Real estate agents and brokers
Recruiting consultants
Sales and marketing consultants
Security guards
Social workers
Software companies
Strategic planning consultants
Training and development consultants
Travel agents
Tutors
Veterinarians
What are the Different Types of Insurance Agent Business Insurance?
At biBERK, we offer seven different types of insurance for small business owners like you. Depending on the location of your business and other factors, certain types might be better for you than others.
Workers' Compensation Insurance
This insurance helps protect your business if an employee is injured, contracts an illness, or dies as a result of an incident on the job. It can cover medical costs, legal fees, and lost wages due to the injury.
chevron_rightWorkers' Compensation
Professional Liability Insurance
Also known as errors and omissions (E&O) insurance, this policy could protect you from the cost of damages and legal fees when someone claims your professional service caused financial harm to them or their business. Coverage includes both mistakes on the part of your business (errors) and the failure to perform a service (omissions). Professional liability insurance should be considered if your business provides professional advice, offers a professional service, or has contractual requirements for the coverage.
chevron_rightProfessional Liability
General Liability Insurance
Also known as commercial liability insurance, a general liability policy covers damages and legal costs associated with injury claims by customers and other people you don't employ, damage to other people's property that was caused by your business, and medical costs associated with these incidents. It also covers libel, slander, and copyright infringement. Plus, there are endorsements you can add to customize your policy, including cyber, hired and non-owned auto liability, employment-related practices liability, and employee benefits liability.
chevron_rightGeneral Liability
Business Owners Policy
Also called property & liability insurance, a business owners policy (BOP) combines general liability insurance with coverage for your company's property. You'll get protection for the building you own, space you lease, and any property needed to run your business, while also receiving coverage for things like business interruption. This can replace lost income, as well as cover other costs associated with getting your business back up and running after suffering property damage, such as the use of a temporary location. You can also tailor your BOP with add-ons including cyber, hired and non-owned auto liability, employment-related practices liability, and employee benefits liability.
chevron_rightBusiness Owners Policy
Cyber Insurance
This coverage can be purchased as an add-on to a general liability, professional liability, or BOP policy. It helps cover costs related to system hacks or data security breaches in which sensitive information has been stolen and fraud has occurred or there is a reasonable expectation that it might occur.
chevron_rightCyber Insurance
Umbrella Insurance
Every insurance policy you purchase has a maximum value that it will cover in the event of an incident. Umbrella insurance adds another layer of protection: it can cover costs that exceed the limit of another liability policy, subject to its own limit. Without it, you may be responsible for anything over your policy limit. Business liability suits can easily exceed the actual value of many small businesses, so we highly recommend an umbrella policy to protect your company.
chevron_rightUmbrella
Why biBERK for E&O for Insurance Agents?
We're the experts when it comes to small business.
Save Time
Get a quote entirely online or speak with one of our insurance experts right away for help getting a quote, buying a policy, or answering any questions you may have.
Save Money
We insure your small business directly, without a middleman or insurance broker, so we pass that savings on to you—up to 20% less than policies with other insurance companies.
Experienced
We're part of Warren Buffett's Berkshire Hathaway Insurance Group with millions of satisfied customers, more than 75 years of insurance experience, and $38 billion in paid claims in 2020.
Get a Quote Today
See why biBERK is easier and more convenient for consulting insurance when you obtain your free quote online.