out of 5 customer review rating and 200,000+ policies sold.
Get the Insurance Your Business Needs
We're the experts when it comes to insuring small businesses.
Save Time
Get a quote entirely online or speak with one of our insurance experts right away for help getting a quote, buying a policy, or answering any questions you may have.
Save Money
We insure your small business directly, without a middleman or insurance broker, so we pass that savings on to you—up to 20% less than policies with other insurance companies.
Experienced
We're part of Warren Buffett's Berkshire Hathaway Insurance Group with millions of satisfied customers, more than 75 years of insurance experience, and $38 billion in paid claims in 2020.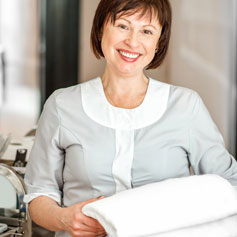 Save up to 20% on Small Business Insurance
We offer top-rated insurance products at prices up to 20% less than the competition. We also offer fast-and-easy claims and unrivaled customer service. You can call and speak with a small business insurance expert, or you can do everything—including purchasing a plan and submitting claims—entirely online. Our processes are all designed with efficiency in mind so you can spend less time dealing with insurance and more time focused on your business.
Help Paying Work-Related Injury Bills
Workers' compensation insurance helps pay bills associated with a work-related injury, including medical care and lost wages. It's useful in many industries, including apartment and property management, auto services and dealers, cleaning, janitorial, condominiums, hotels, construction, contracting, health care, lawn care, landscaping, professional services, restaurants, bars, retail stores, transportation, and more.
chevron_right
chevron_left